Link to listen and subscribe: PodBean
Last year AWS announced ARM-based Graviton2 EC2 instances providing a cheaper more efficient option to classic X86 instances. Jobin and Sergey Kuzmichev wanted to know if the cheaper instances came at a cost in overall performance and set out on a deep dive into benchmarking and testing the different instances. Their hard work culminated in the first of a potential group of blogs highlighting the performance of PostgreSQL on the ARM processor. The HOSS sat down with Jobin and talked about not only Jobin's journey into the PostgreSQL space, but also the benchmarks, PostgreSQL features, and all things Open.
YouTube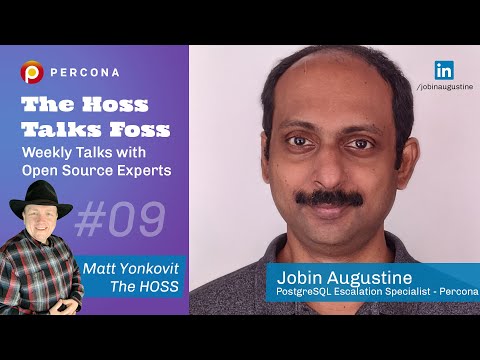 Link: https://youtu.be/qYx3JyQ9izA
Jobin Augustine
PostgreSQL Escalation Specialist, Percona
Jobin Augustine is a PostgreSQL expert and Open Source advocate and has more than 19 years of working experience as consultant, architect, administrator, writer, and trainer in PostgreSQL, Oracle and other database technologies. He has always been an active participant in the Open Source communities and his main focus area is database performance and optimization. He is a contributor to various Open Source Projects and is an active blogger and loves to code in C++ and Python. Jobin holds a Masters in Computer Applications and joined Percona in 2018 as a Senior Support Engineer. Prior to joining Percona, he worked at OpenSCG for 2 years as Architect and was part of the BigSQL core team, a complete PostgreSQL distribution offering. Previous to his work at OpenSCG, Jobin worked at Dell as Database Senior Advisor for 10 years and 5 years with TCS/CMC.
Matt Yonkovit
The HOSS, Percona
Matt is currently working as the Head of Open Source Strategy (HOSS) for Percona, a leader in open source database software and services. He has over 15 years of experience in the open source industry including over 10 years of executive-level experience leading open source teams. Matt's experience merges the technical and business aspects of the open source database experience with both a passion for hands on development and management and the leadership of building strong teams. During his time he has created or managed business units responsible for service delivery ( consulting, support, and managed services ), customer success, product management, marketing, and operations. He currently leads efforts around Percona's OSPO, community, and developer relations efforts. He hosts the HOSS talks FOSS podcast, writes regularly, and shares his MySQL and PostgreSQL knowledge as often as possible.