Link to listen and subscribe: PodBean
YouTube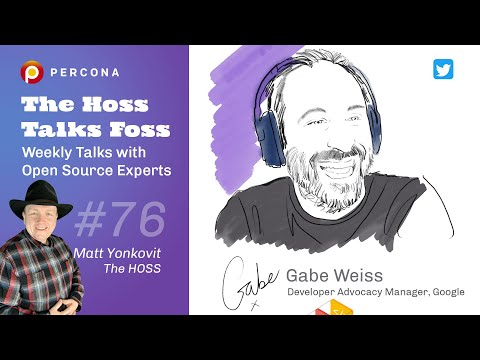 Link: https://youtu.be/PbVkDhf9T5o
Matt Yonkovit
The HOSS, Percona
Matt is currently working as the Head of Open Source Strategy (HOSS) for Percona, a leader in open source database software and services. He has over 15 years of experience in the open source industry including over 10 years of executive-level experience leading open source teams. Matt's experience merges the technical and business aspects of the open source database experience with both a passion for hands on development and management and the leadership of building strong teams. During his time he has created or managed business units responsible for service delivery ( consulting, support, and managed services ), customer success, product management, marketing, and operations. He currently leads efforts around Percona's OSPO, community, and developer relations efforts. He hosts the HOSS talks FOSS podcast, writes regularly, and shares his MySQL and PostgreSQL knowledge as often as possible.
Gabe Weiss
Developer Advocacy Manager at Google
Gabe Weiss had a first career as an actor and shifted into tech. He has found a job that neatly marries both of his careers into one job. Being a developer advocate means he gets the freedom to continually learn new skills and new ways of doing things, and then turn around and teach others how to do it. Through speaking in public, videos and blogs, he gets to reach a wide audience.
Transcript