Link to listen and subscribe: PodBean
Join Matt Yonkovit, The Head of Open Source Strategy at Percona, as he sat down with Joshua Drake, President of Command Prompt Inc. Learn about the early days in PostgreSQL and the beginning of the Command Prompt. Joshua is sharing his opinion about the open-source community in action, conferences that they organized, and No code Low code solution. They tackle the market and challenges of startups in open source vs. GPL, SSPL, and monetization of open source projects.
YouTube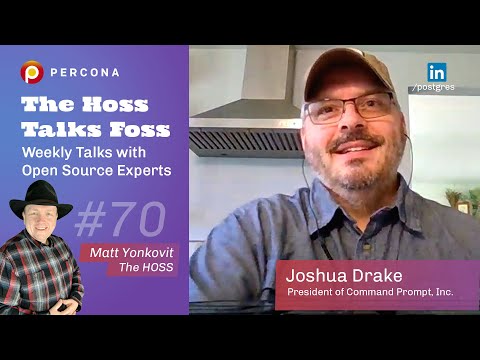 Link: https://youtu.be/pPYXwdnSI8o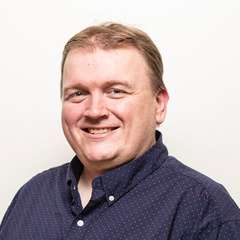 Matt Yonkovit
The HOSS, Percona
Matt is currently working as the Head of Open Source Strategy (HOSS) for Percona, a leader in open source database software and services. He has over 15 years of experience in the open source industry including over 10 years of executive-level experience leading open source teams. Matt's experience merges the technical and business aspects of the open source database experience with both a passion for hands on development and management and the leadership of building strong teams. During his time he has created or managed business units responsible for service delivery ( consulting, support, and managed services ), customer success, product management, marketing, and operations. He currently leads efforts around Percona's OSPO, community, and developer relations efforts. He hosts the HOSS talks FOSS podcast, writes regularly, and shares his MySQL and PostgreSQL knowledge as often as possible.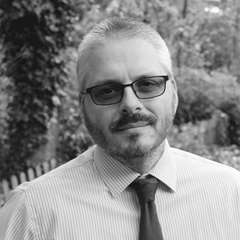 Joshua Drake
President of Command Prompt Inc
President of Command Prompt, Inc., the oldest Postgres Company. We specialize in Full Stack Postgres Support and consulting including Oracle to Postgres Migrations. I am also Co-Chair of Postgres Conference (PostgresConf), the largest non-profit Postgres Community and Ecosystem conference. Connect with us to find out how we can help your business either with Oracle Migrations, 24x7 Postgres Support, Professional Services or build a relationship around your company success with PostgresConf.
Transcript
Matt Yonkovit
Hello, everyone, welcome to another episode of the HOSS talks FOSS. I'm Matt Yonkovit and I am here to talk to JD, Joshua Drake, the founder and the lead over at command prompt. Who's been doing Postgres since the early days of Postgres. I know. JD,
Joshua Drake
I'm doing pretty good. It's funny you say early days? It's basically the beginning days.
Matt Yonkovit
Yeah. Yeah, like, you start a command prompt, and what 97?
Joshua Drake
Command prompts started in 97. And we were actually doing things with Postgres 95, which was the precursor project to PostgreSQL before we'd started with PostgreSQL?
Matt Yonkovit
Wow. Yeah. So you've been in there since the very beginning. And I started my MySQL career. somewhere in that mid-90s I started working around MySQL and started to look at open source databases, I'm ashamed to say that I actually started doing a lot of Oracle back then, as well. But I don't do that anymore. I haven't touched it in 15 years, you gotta pay the bills sometimes? Well, you had to start somewhere, right? and I think we all started in a little different place now, out of curiosity, like what kind of grabbed your attention around Postgres back in those early days.
Joshua Drake
So it's interesting. So first, I started as just a Linux guy, way, way back with the SLS distribution, most people haven't heard of it SLS is what Slackware is based on what opens or what Seuss eventually was based on the way before Red Hat or before Ubuntu it was even a thing. Or Debian for that matter. And basically, I got fired from my last job, because I'm not a very good employee. But I'm just not It's too easy for me to look at you and say, What, and started command prompt started as a Linux hosting kind of shop because this was right when the internet was starting to take off and companies were starting to no longer allow you to have shell access. So we started with five bucks a month, you get a shell, you can do whatever you want we get your hack, and we kick you off that kind of thing. And we did a lot of intermediary web development with Perl and CGI and things like that, and we needed a database. And literally, I just downloaded Postgres 95 and kind of fell into it. And then as we grew over the years and became full-time, in the very early 2000s, we were already profitable. We're already working with PostgreSQL exclusively. And I call it a company called Great Bridge. Great Bridge was the original vc.com Bubble PostgreSQL company. Bruce Momjian, the core member, John Wick from Germany, and Tom Lane, have four, I think it's four of the core members and a bunch of other people. Net Billy, who's now an ex-to-bull, the founder of X turbo, actually. And I said, Hey, look, we're consultants, we're doing this. And we just need a tear for a company that maybe we might have to call once a year. How much is that going to cost 15 grand for maybe one incident a year, that phone call, made me completely change the direction of command prompt into a full-service boutique, PostgreSQL 24/7, the whole bit, and Great Bridge was out of business eight months later. It didn't they were just way ahead of it. And frankly, they're still way ahead of their time, because they didn't understand the market or leadership didn't understand the market. And it allowed us to continue to just grow and flourish. And now it's 2022. And I am no longer a young man, but not yet quite an old man.
Matt Yonkovit
I feel that right. Yeah, feel that one. So that's how we got started. Okay, and so over the years you have done a lot in this space, including a lot of conferences, and you've been very active in the community. It's something that you as an individual, but also as a company has been incredibly kind of central to the activities that are going on. In fact, last week, I was at your conference and
Joshua Drake
you were at Postgres conferences, not my conference. Okay. Well, the coverage you put on Yes, you signed the lead organizer, organizer. But we do have a team. It's a 501 C three, it's not a command prompts conference. And the only reason to bring it up is that we don't want it to be Command Prompt conference? Right? We want to inspect It's why we want it was command prompts conference, we wouldn't want Percona there, right? We want it to be the community's professional conference, we want it to be the opportunity for anybody and everybody to come and learn Network Connect, and in this particular instance, see old friends, because it was the first in-person we've done since 2019.
Matt Yonkovit
Indeed, yeah, I mean, it's been crazy the last two years without in-person conferences. Yes,
Joshua Drake
it absolutely has Postgres conference Postgres world. like many conferences, Percona lives, for example, I believe you did this, too, we switched to a digital format. And we continue to build, in fact, we had some Percona people give some webinars so that we can continue to fill the education gap and the video gap through YouTube and through our own site. Because we didn't want one of the most important things, especially with open sources to be education. And we want everyone to have access free access to that content to allow them to succeed with Postgres because that's how you're going to be Oracle, that's how you're going to be MySQL, by making sure that the groundswell of infrastructure has an open-source ethic. And that includes education.
Matt Yonkovit
Yeah, and it's becoming more and more important, because from an education perspective, and my personal experiences, we're seeing a shift in a lot of the companies who are running Postgres or other open source databases, where they're now providing their own kind of mini platforms as a service offering internally. And their end users have zero or very little actual database experience, but they just kind of give them some basic framework and say, Here you go, just go ahead, and do your thing. And while that's cool that they can do a lot of automation to build those out. In a lot of cases, it leads to some just horrendous design decisions and some horrendous code. And a few horrendous things. And you probably have experienced that.
Joshua Drake
I am certain, I mean, one of my favorites to this day because command prompt does a lot of work with what I called old money companies, companies that they're not interested in your fly-by-night shop. And like the fact that we've been around for so long, we understand how older businesses as big as bigger businesses do work. But my favorite example is, yeah, my boss connected to the database with Excel. And out of my mouth, every time is why in God's name, did you allow him to do that? And they're like, well, Boss, I'm like, Yeah, but when he deletes everything, you're the one that gets fired. Right? You have to have some kind of control over that. And just opening up a port with a username and a database and saying Go for it is not always the best case.
Matt Yonkovit
I mean, I think that this has led to a plethora of problems, right? and I, the talk that I gave it at the conference last week was all about the development side, and users kind of shaping the future of where Postgres is gonna go. And some of the numbers from different places that I pulled out that the sizes of these environments are growing, and there's less DBAs, less DBRE whatever you wanna call them that as SRE is to actually enforce those standards. So we're seeing things like more outages, as opposed to less, we're seeing more security issues of posts, less, more slowdowns, as opposed to less, but we're also just seeing more of everything. Right? it's insane maybe like five years ago, it's like, we might have hundreds of databases that we manage, or maintain, you're like, ooh, that's pretty big. And now we're talking to 1000s, right? Because everybody wants their own database, like every application, every microservice, I want my own little piece of the pie. And I think that that has led to a lot of crazy complexity.
Joshua Drake
You know, it's all in the argument of simplification, right? I mean, like no code movement, and things like that. And the counterargument is, okay, sure, you can fire up this microservice or this serverless container, or you can do this or this or this. And you can use these macros, but the reality is these people don't know what they're doing. And you wouldn't put a 12-year-old in a car and say, hit the freeway, you just wouldn't do it. And the idea that you have people that can't program a VCR, suddenly in charge of critical infrastructure or something that may become critical infrastructure. I mean, it's great for you and me, because eventually, they are going to have to call us right that eventually, it will happen, something some event will happen, and they didn't have a point in time recovery setup. They didn't have their disaster recovery setup. They hadn't taken the backup in three months. They got X, Id wrap around, whatever. And they're going to call us and they're not going to get a support contract. So it's going to be double time and then it's going to be on a Sunday, so it's triple time then it's just going to be a that all around. And then they wonder, they say to themselves, well, why did this happen? This isn't supposed to happen. And it's because you put a 12-year-old in a car and let him go off on the freeway.
Matt Yonkovit
So how much of that do you think is driven by some of them to a lane and some of the marketing around some of the tooling around the no code, low code solutions? Or even like the fully managed databases that are out there? I mean, are we kind of fooling people into a false sense of security? What do you think?
Joshua Drake
I mean, Atlassian, just is, is looking at what three weeks outage at this point four weeks outage at this point? Because they told everybody to trust us, we got this. Now, don't get me wrong, bad things happen. And I'm not saying they did anything wrong. I don't know if they did anything wrong. But what I do know, is the fact that they can't just restore, okay, maybe you lose an hour's worth of data, maybe. But the fact that you cannot bring a client back up, and they can't even tell you or communicate with you whether or not you're going to get your data back. That's a serious problem. Right?
Matt Yonkovit
and it's crazy.
Joshua Drake
It's smart, though, think about if you go to say, Well, I'm not gonna name a cloud provider, but one of the big cloud providers, the only thing they guarantee you is that they won't go down. Or if they do go down, it's within certain parameters. And if they, if they go beyond that, you get certain credits back, they don't guarantee your data. They don't guarantee your backups, right? They don't guarantee your integrity. They're selling you essentially, colocation with a pretty console is what they're doing.
Matt Yonkovit
Yeah, and I mean, so we do a survey regularly. And one of the things that came out of that was those running in the cloud, right? They had said, 22% of our hundreds of users who responded to this said that they had been impacted by some sort of cloud outage in the last year. Right. So it's not like it's, it's bulletproof. But with automation comes scale. And with scale comes additional problems. So I had someone on the podcast, who works at Pinterest, not too long ago. And he said, Yeah, we've got 1000s of instances running, and they're in MySQL. But he said hey, I've got almost 2000 instances, At that rate, you're going to hit all of the weird bugs, because when you've got multiple instances, that means guess what, if you have a 1000 chance of hitting this critical bug, and I've got 2000 instances, guess what? Yeah. Yeah. Yeah. And it was like, oh, yeah, you're right. And I think that's the interesting thing about automation. And the growth that we're seeing is, we take a problem that might be relatively minor impact one thing, and then we automate it 1000 times over and it becomes 1000 times the problem. And I'm not saying automation is bad, it's great. It's just there is some downside.
Joshua Drake
No technology is perfect, right? And humans, by their very nature, are lazy. And I'll give you a perfect example. This was a few years ago, but there was a node JS library, I think it was, and it was sitting on a public s3 bucket. And it was being used by hundreds of 1000s of websites, including some that you would say why in the world pull it off to your own bucket, pull it off to your own web server or whatever, why are you doing this, and s3 went down in a region and shut down and a good portion of the web, both gone for a couple of hours. Because the individuals in charge of the infrastructure were so lazy, they just linked to an external source that happened to be public.
Matt Yonkovit
But is that so so this is an interesting example. Because Recently, there have been some cases of sabotage directly with JavaScript libraries and other open-source projects. And it's really more driven by the CI-CD pipelines that people have created to continuously go grab the latest version of fill in the blank and just dump it in without any sort of testing or validation. And then all of a sudden, you introduced a poison pill into the environment. I don't know if that is just overly trusting, or if it's lazy because I think they built the automation to do this. They thought about it at least long enough to think as aI should continually pull this down and deploy it. But the fact that they haven't actually verified that this is not going to steal your data or do something crazy.
Joshua Drake
There are two sights now, right? One of them is I think it's a trust slash lazy issue. And the trust part of that comes in is that as a general rule, you can trust open-source software. Frankly, you can trust it more than proprietary software because there are eyes everywhere looking at the software in theory. So, and it's something it is respected and trusted, it's been built over decades, this isn't new, right? Free software goes all the way back to the 80s. Open source is something that was coined in late 1989. But it's the same theory, right. And when you think about it, you download Ubuntu or you download rocky Linux or whatever, you know that there's a community behind it, that's checking those things. So there's this inherent blind trust, I have no problem downloading whatever updates Ubuntu sends me ever just do it. And if my laptop blows up, I restore it from backup. And for the record, it's never blown up, except when I couldn't wait for the stable release. It's never blown up from a stable release. But then there's the other side of it. And this is actually I think, more important, because, yes, trust and, and simplification is great. I mean, I can absolutely see an engineer saying to themselves, we're just going to grab the GitHub package, or release or whatever, whenever it comes out. Because it removes the step of having to download it, run the tests validated, and deploy it. Right. I can see that I mean, I have this argument with my guys. It's like, no, you've gotta at least test it first. But the point I can't see is the ignorance and narcissism that goes into this idea that somehow people owe you money for your Free Software, these developers that willingly corrupt another person's software for the sake of some statement, whether it be political, or whether it be you're not backing me up financially enough? I'm sorry, do you not understand how open source works? It's the same problem with some, like Elastic Search, who got all upset? Because all of a sudden, they realize people could use their software without paying a license fee? Well, I'm sorry, did you not read the license terms that you applied to your software? Do people need to kind of look at it? Do you deserve to get paid for your work? Yes, absolutely. Make an open-source, there is zero expectation or requirement that you are.
Matt Yonkovit
So I actually gave a talk at FOSDEM in the last two years, the death of openness and freedom, driven by the business of open source, and it's specifically driven by a lot of investor greed, in my opinion. So I talked to numerous open-source companies, and I like to talk to people. So I'd like to collect knowledge, I'm one of those people who just always likes to ask questions. And the thing that I was so shocked at the last few years is the evolution of the commercial open-source space. And how open source has really kind of been hijacked as this marketing tool specifically to have a big exit? Right? like I know investors who are just like, Let's slap an open-source moniker on this because I can get like, two times the valuation right now because everybody loves open source. And it's crazy. In fact, it's, it's interesting because I am, I don't pretend to know everything about the business, I have run various departments here, Percona, I've run customer success, marketing, I've run like everything, but sales. But we have always been in, I'm guessing the command prompt is probably in a similar space. we do not have deep pockets, we don't go out and take VC funds, right? So we know that, hey, we need to be good to the customers, they'll pay us for our services, we'll give them good value, and then we'll we're not going to spend more than we have, we're not going to get these giant thanks. Always is just, it's, it makes you scratch your head sometimes that companies go out there, they don't even have a commercial product, they get a million $100 million in funding or whatever. And then they go out and they spend all this money to try and like grow their like community, and then they still don't make money. So then they go get another 100 million dollars. And then they get another 100 million dollars. And they just keep on adding, but they keep on producing less and less. And it's weird. This year I was talking to some CEOs in the open-source space, and they're like, a lot of this is because Jeff Bezos once famously said, If I ever turn a profit, you should fire me because I need to invest in growth and I need to take all the money I can get and just invest in faster growth. And that will solve everything in the end. Now, in the case of Amazon, it worked but probably the other not.
Joshua Drake
Do you know what Nautilus is? You use it every
Matt Yonkovit
Sounds familiar. I mean, like, I know like that used to exist the nautilus machine? Like, that's the first thing. Oh, okay, I'm sorry!
Joshua Drake
And you launch the file browser, that's Nautilus. Okay, yeah, we're not also it's Bill funded by $15 million in VC, they're way ahead of their time. And the goal was to create a software store, think the Ubuntu store is okay. For GNOME and free software, and they didn't make it, they went through 15 million, but they had a decent idea. And their software lives on today, in the majority of Linux desktops. Okay. There's something that came from that 15 million. The problem that I see today is that, as you said, they keep taking money, taking money making money. Well, now, not every company, but lots of companies have an innovative idea. But they don't want to share it. They want to call it open-source, so they launch their own cloud company. Now, that's okay, fine. If you can make money at that, you're good at it. And you can get people to treat people, right, awesome, good for you. But then their mindset shifts and they start calling anybody who's not on their cloud, a legacy customer. The whole goal is to get them on their cloud. The cloud is huge. It's 4 billion, 4 trillion, something like that. It's a lot. But it's only like 5%. There are companies literally who legally cannot move to the cloud. And these companies are not small companies. There are companies that are never going to put a trillion dollars of revenue, or GDP or country or whatever, into these clouds. Now, they might build their own cloud using something like OpenShift for their own internal environments. Right. But they're not. Yeah, absolutely. Yeah. But it's an I've seen that a lot. And it just strikes me as so exceedingly arrogant, as well as just out of touch with reality to say that because you're not on my cloud, you're a legacy customer. Think about what you're saying to the people that feed your kids, the people that make it so you can provide health insurance 401 K, or whatever the equivalent is, wherever you are, you were saying that these big companies who have taken a risk on your startup, who has proven nothing, except that you can build interesting technology, you're not profitable, you continue to raise Series B Series C's, now you're a unicorn, guess what? Unicorns don't exist. And you ask them to trust you, and then you respect them that way? It's embarrassing to me that these companies are doing it.
Matt Yonkovit
Yeah. It's a weird market. Right. And I think that that's probably one of the biggest challenges that I see, from a company that's trying to start out in that open-source space is you look at who you would emulate, right, like so. And I'm not asking you personally, because based on our discussions, I kind of know who you think it would be like a good open-source steward and who are you, but what's think about, like the redefinition or the reclassification of what is open source. we coined the term open source, and we have OSI standards that to be an open-source license, you need to comply with. So, okay, we're not going to comply with that, but we're still going to call ourselves quote, unquote, open.
Joshua Drake
oh, this is great, actually, that you bring this up any company in the United States, that declares that they are open source that is not using a license that has been vetted and validated by the Open Source Initiative, legally, cannot call themselves open source that came down from the courts just a couple of weeks ago, because there were so many companies out there, that maybe they were once open-source, and then they went to this source available shared source stuff, that we're still saying, Oh, we're open source, we're open source, and they legally cannot now so you can expect a wave of terminology changes because you can't do that anymore? Because it's lying to the public
Matt Yonkovit
yet? Well, it'll be interesting to see if I'm sure that's gonna get I know what court case you're talking about. I'm sure it's gonna get appealed, because who wants to lose their money ticket. But on top of that, what's interesting is the rise of quote-unquote, compatibility. It's open-source compatible, or Postgres compatible, or MySQL compatible, which is like, you're like, What does open-source compatible mean? It means not open source at all, but you could use it with it. Right? Like, I mean, that's really what it is.
Joshua Drake
Well, a good example is Amazon. Aurora, right? or go Postgres on, excuse me, Postgres on Spanner, right with Google. They're not open source, not at all. What they did is they took the Postgres protocol, and then whatever of the top layer of the user interface with the SQL dialect and all that, that they could work with, and they did that. And that's great, especially for Postgres. Postgres is specifically designed for that. That's why a lot of people don't know this, but if you're running Informix, you're running Postgres. Okay. Put, in fact, you're running your original Postgres, not PostgreSQL, Postgres, because it goes Ingress, Postgres, Postgres became Illustra Informix, bought Illustra. Because Informix in their old architecture, couldn't go any farther, and then became the next Informix and then IBM bought them. Okay, so if you're running Informix, you're running the original Postgres. But this happens all the time with Postgres. And, and that's perfectly okay. Because we are a BSD style license you're allowed to take from it, please do. It's the proliferation of technology. I mean, another good example would be VMware Greenplum. Right? Although VMware Greenplum is open source. So there's nothing wrong with that. But there is a serious problem. When a company or an individual, well, let's put it this way, from an ethical perspective. If you were going to take, you should give back. If all you're doing is taking you are a cannibal, you're not good for society, you're terrible for society, I don't care how much money you say you're making for somebody else. Because you took this technology, you have to give back in some way. Now, it doesn't have to be code. I think that's something that engineers make a lot of mistakes, to code that fatal good code. Yeah. That's not their talent. Maybe they I don't know, run free conferences. Yeah. Or training? Yeah. Or sponsor?
Matt Yonkovit
Yeah. And I can tell you even from an engineering perspective, the most critical contributions are generally feedback, bug reports, and testing. And the education that engineers don't like to do. Yeah. Right. So I think that those are all super valuable. Now, don't get me wrong. See, here's the thing. Like, I have no qualms with proprietary software, cloud providers, whatever. I have qualms with questionable terms, or things that are kind of shady, in my opinion, which are, which are those things? Don't sell me a Toyota and give me a Vega? There you go. Right. Like, yeah, I want to I just believe in transparency, right. So I think all things equal, open-source is going to win hands down, it's going to have more contributors, it's going to evolve quicker, it's going to have a better track record over the long term, you're going to have a lot more flexibility. I think that it's going to be more innovative. But if you choose to use Oracle, Microsoft products, or a cloud provider, that's cool. But I don't like if you think you're using an open-source product, and you're not really and then you get into a situation where you're stuck. That just drives me nuts.
Joshua Drake
No, and I agree with you there. But I think there's a flip side to that. What people don't realize is that you are running an open-source period. You cannot browse the web without running open source. 85% of the world runs a distribution of Linux, it's called Android. And your Mac has based on a free FreeBSD Oh, yeah. Everybody, when you go, if you're one of these people, God help you. I love you. I just don't understand it. If you've got one of those fridges that now have TVs on them,
Matt Yonkovit
yeah.
Joshua Drake
You're running open-source, right? Every time you get on a flight, and you push a button that says show me the latest episode of whatever so that I don't have to realize I'm sitting next to this guy snoring, you're using open source. So from that perspective, open-source has already won. The part where it hasn't won is with people understanding or companies, certain companies understanding the value beyond the dollar. And I'll give you a perfect example. I used to sit on the board of software and the public interest software in the public interest is the nonprofit 501 C three. That is the nonprofit for Debian, for example. It's also a nonprofit for libre office in the United States. It's a nonprofit for Postgresql.org, although some things are happening there because there are other nonprofits for PostgreSQL. And we went to a board meeting in New York this is and the President sat down BDL Gharbi, legendary, open-source free software guy He's now retired. You Sitting goes, damn guys, we won. And I looked at him, I said, not until GitHub is open source. Because don't get me wrong, I love GitHub. It's smart, it's intuitive, and it's made contributing to projects really easy. pull merge, all that stuff is great. And I don't knock them a minute for making the money they made. I don't knock them a minute from Microsoft buying them. But as long as open, the revenue that is generated from open source is closed source. We're losing. We're basically being taken advantage of. And what, that's what we signed up for, because of our licensing. But if you look at it from we'll open source ever win not until these companies say, okay I'll give you a perfect example. I 100%, understand why you would not make get a BSD license, that would be a terrible idea. But it can be GPL.
Matt Yonkovit
But the problem, okay, I don't want to call it a problem. It's the perceived problem, okay, with GPL. Right? Not my problem with GPL. The perceived problem with GPL is someone can take my code and run a cloud service that competes with me.
Joshua Drake
That's true. That is true. But here's the thing, by and large people are limited. And if you've already established yourself as the provider, why would I go to get foul? When I have GitHub right here, and they are the canonical source? That being said, also keep in mind, that it's no different than Linux distributions? Why do we have 100 different Linux distributions? Because they all serve a different problem.
Matt Yonkovit
But I think the difference with Linux distributions, and by the way, I started on Slackware. so back in the day, the difference between list Linux distributions is they are designed to be free and open. And then there have been a few companies that have been able to monetize, but the large majority have not. Right, the large majority have not had distributions. And I think that largely the concern is more fun than real, honestly, because it's like the SSPL movement now. Right? yeah, let's, let's be honest like, God, dang it all. They have money that should be mine. Yeah, it's not. It's not like the companies aren't growing. It's not like they don't have 500 million in sales. It's that they want 600 million. And they're, unfortunately, spending a billion dollars to get the 600 million in sales. But that's like, so how do we close the gap, and it's, we prevent the other guys from stealing stuff that's mine. That Well, in there, in your, in a lot of people's minds. I'm not saying that we're not I mean, but in a lot of companies' minds, they did not get into the open-source game to share the code and to share potential profits. They got into it to convince people to start up, it's shareware. 2.0 or 3.0.
Joshua Drake
you're not wrong. But on the other hand, the way I kind of look at it is okay, so you launched this company using open source as your marketing capability. Now you've advocacy, right, there's, it's different to get people to use it because that people are open sources, the hot new thing, and then oh shit, people are using it and not paying me. Well, yeah, that's what open source means. And if you want them to pay you, you have to offer them something worth paying for. There are people that pay for Ubuntu, but I don't, because I don't need to, I don't have that need. But there are plenty of people to do red hat has cornered the market on that. It's about now and there's nothing stopping them. And this is what VMware, one of the largest companies in the world does with Greenplum. They have their community edition 100% Open Source, you can do anything you want with it. But yes, there is an Enterprise Edition. That makes things a little easier. Now if you don't want to use VMware because they're an older stodgy your company even though they're not take a look at Yugabyte. Yugabyte is 100% Open Source. They're considered one of the unicorns in the database space at this point, but they didn't go SSPL. They didn't go you can do anything you want. As long as you don't make a cloud provider like Mongo. Right? They said, You know what, we're going to make our stuff just, we're going to make the value of running in our cloud or buying our enterprise version enough to where you're going to want to buy it, but you know what, if you're geeky enough for you have the skills, do a GitHub pull and have at it, just do us a favor and give us some feedback
Matt Yonkovit
No, I think I think that's a great model. I've had Karthik The CTO, founder of Yougabyte is on with me. And he's talked extensively about that. I mean, I mean, he comes from that ecosystem now. Right. So he was one of the original folks on the Cassandra project, right. And so, so he's got a pedigree and a background that kind of understands that open source space, which is why he was actually.
Joshua Drake
He's great guy.
Matt Yonkovit
Yeah, real, real, engaging, good conversation, go check it out. The podcast, if you want more details. Great. Yeah. super awesome there. But no, I think that part of the challenge is, that a lot of open source projects are a labor of love. And let's, let's leave databases aside we mentioned some of the people who are new keen are sabotaging their own code. A lot of these are smaller applications that honestly are libraries that honestly, I would never pay for personally. But people start to rely on them. And this is where there's this, this kind of interesting intersection and a lot of debate going on, is how do you help these founders out, because we've tried, like, donates, and this kind of thing, and it just doesn't work. Right. So what sort of things will work to help facilitate that these awesome contributions that are out there in the open-source space that people have provided, can still be sustainable without having someone go hungry. And you know a lot of times, you start as this labor of love, and I've had this before, where you're like, this is cool, I want to do this, yay. And then all of a sudden gets popular, and you're like, I have no time to do this. So you have to shut it down, or you have to change there has to be some middle ground. And I don't know what that is.
Joshua Drake
I can't remember what the article was, but there was an article recently about this very, this very problem in this problem. Let's be clear to anybody listening, this is not new. Since the first open-source slash-free software, this is a problem. And it boils down to this, you've got a lot of really brilliant people who know nothing about conducting business. So they get-go serve me, they get Patreon. They do the GitHub donate button thing now. And they hope that somebody will give them some money. You cannot get someone like VMware, or even someone like Microsoft to say, Oh, hey, this is a great little utility. I'm going to put $1,000 on a Patreon. They're not going to do it. That's not how business works. So what's the next step? Well, you could provide a support contract? Well, you know nothing about conducting business, you can't provide a support contract, you don't realize that, oh, I said I would do x. So now I need 10 million in liability insurance, which is gonna cost me $30,000 a year. And now I need a lawyer, I need an accountant, so on and so on, and so on, and so on. So that's problem number one is that you have these brilliant people who they truly are in their space, brilliant people, or they just happen to scratch an itch, and it ended up being brilliant, but they don't know how to conduct business. And then you have businesses who don't know how to operate in the space that doesn't have a contract doesn't have a service agreement doesn't have a Pio doesn't have an invoice, the best you get is someone like you or me, who can expense it on the Air Max because we understand the two sides. Right? to happen in some companies do exist. For example, software in the public interest, you have the ability to have software in the public interest and be your business front for donations and things like that to your software project. Should you be accepted. What's the downside? Software in the public interest is run by a bunch of people who are brilliant but don't know how to conduct business because they're engineers. So you end up with something like Linux Foundation, but that's a different scale. Right? What really needs to happen is in someone with far more resources than command prompt or frankly Percona because it would be a big lift, but create a nonpartisan, right flavor-free store. And the author like there's pie. There's whatever Ruby uses there, Cpanel all those things. Right, have the open-source store and you upload your software and it automatically builds out of self-contained RPM or container image or whatever. And then subscribers to the store. Get some level of support what probably just email URL or web-based ticket tracking or whatever. And there's an arbitrary number, the engineer sets like maybe it's, I mean, there are lots of libraries out there that people don't realize, okay. So for example, your JPEG library that renders the JPEG images on the internet for your web browser is open source, you would never think that one of the most widely distributed libraries in the world is free. Okay, it's free. But you upload that. And if Microsoft wants the latest and greatest version, and they want it supported, they say we're going to distribute this to a million customers. And in exchange, it's going to cost us point 001 cents. So they end up spending say, I don't know, 10 grand for a million licenses to this. And even though it's open-source, they do that because it helps fund the continued development. Now, Microsoft might be a bad example. Because people like Microsoft, Amazon, and Google, Apple know that they're bad companies or good companies, that's irrelevant. But if they want that software, they can just throw 20 engineers at it and support themselves. But there are plenty of others. Right?
Matt Yonkovit
Yeah. Well, that sounds like a very similar model to what tide lifts have been trying to do, right? Where they're trying to get people together to offer support contracts for smaller projects. So that, I mean, like, I do think that that's a potential area that that has some, some room for growth. I just don't think I mean, I wonder how long-term sustainability for a lot of these projects is? Because like you said like, oh, great you're gonna get a million licenses for this thing. And it's gonna cost 10 grand, that's great. But how many 10 grands do you need to have before? you can work full time,
Joshua Drake
I think, why are you working on it full time 99% of open sources, hobbies, you don't get paid for your hobby, you get paid for a job?
Matt Yonkovit
Well, but this is where a lot of times, a hobby can overtake the amount of time you have associated your life. And like, I know, several founders, who started this as a hobby project, and then it just grew out of control. And in order to try and keep up with, like answering questions and feeling that this is their baby, this is their say that they have to provide some level of support or answer questions or follow up on PRs. And when they don't, then people get persnickety. And let's be honest, people can get pretty nasty.
Joshua Drake
Yeah, altruism is great. Don't get me wrong. I certainly understand. outside of the tech world, one of the things I do is convert school buses and RVs. That's my hobby, right? Yes, yeah.
Matt Yonkovit
Like three, right,
Joshua Drake
three or four states or something like that last fall. But in so I also participate in those communities. And it can take up a lot of my time. But I don't expect to get paid for it, because it's my hobby. And in okay, this is going to be a little bit harsh, and I don't mean it that way. But it's really kind of a reality check for people that think this is the internet on the internet, people are not real. It's bits and bytes. There was this thing when you and I were growing up called Sticks and stones may break my bones, but names will never hurt me. Get the hell over yourself. Your software project, if it is that important, it will monetize. If it does not monetize, it's taking away from you your health, your heart, your family, and your psychological well-being. Why are you doing it? It does not it control D delete the directory. Because it's taking from you. Right? It's a balance if it is just taking from you. It is sucking the life out of you. And if it's sucking the life out of you, it's sucking the life out of your relationships, your children, your church, whatever it is that you intend to do in your community, whether it be virtual or real. That's the real problem. The real problem is people are assigning arbitrary values to something that doesn't give back. Life is about to give and take. Right? You give a little bit hopefully someone pays it forward. And you get a little bit back there. Everyone's just taking from you. I mean, it's not my life, but I said give him the finger. Because I've got things that I need to do to provide for my family. My team Percona understands this. You guys are huge open-source advocates. But you're not going to invest in things that are not giving is always monetary, right. There are all kinds of getting back. But you're not going to invest some Then where you're not getting anything back. Because it just destroys whatever ecosystem that you've built up to provide for either your family or the families that you employ.
Matt Yonkovit
I mean, the business aspect of open source is a critical aspect, because, let's be honest, most open source projects do not operate as a business. They don't. Right, right their hobbies and it's great to aspire to be able to have a business. But even before the open-source space, a lot of businesses I mean, the majority of businesses fail after they start, right. So whether it's a restaurant or a store or whatever, it's not necessarily easy. But I do think that it is very easy to create popular open-source, but it's very difficult to monetize popular open source. And that is, I think that the challenge,
Joshua Drake
well, define monetization, right, because it is very easy to monetize as a service in my service. And until my cloud, I'm talking about I am the expert, therefore, I will help you. If, if you have a popular open-source project, and it is no longer a hobby, that means it's a job, if it's a job you get paid. If someone asks you a support question, if they don't flip up that credit card, you don't answer, you don't have to be a jerk about it. You just say, Look, this is now my job, I do not provide free support. My rates are x. And your job as the author is to provide reasonable documentation, fix the bugs that are reported, and thank them and maybe even give them like an hour of support for free because they reported this bug, right make it a mutual partnership for success. But if you come to somebody who is giving you free software, and expect free support, you're a troll and a beggar. Don't be a troll and a beggar be someone worth something come to the table. So and it doesn't have to be money. I see this happen all the time. I can't pay you an incident fee. I could send you some pizza that used to happen all in our younger days. Do you remember this? People will say look, I don't have 120 bucks an hour. But you know what? I can send you a pizza. And people will do it at least there's a give and take there. But this idea that somehow because you're using my software, that I owe you something for free, I gave you the software for free, you know the word free means right? There's just an overall sense. And I think a lot of it is because in the world today, a lot of people think things are free. When you go to Facebook, it's free. No, it's not. The cost.
Matt Yonkovit
Your personal information,
Joshua Drake
you are the product you are. Yeah, right. And it's not just me, it's all social media, Twitter, right? There is nothing in this world. That is you can't even breathe for free. Well, yes, I can really, do you think you're not paying carbon taxes. You don't own your house, if you don't pay property taxes, even if you buy your house, the government comes and takes it from you. There is nothing in this world for free, stop expecting that it's free, and stop allowing it to have that expectation. Every open-source author on this planet should say upfront, I will do what I can within my parameters. But if you want extra, this is my fee. That'll change the scope of everything.
Matt Yonkovit
I mean, I think that even with that, though, not all of them not everyone's gonna be willing to pay for it, which is cool. But it just means that not every product even needs that level of support. Right. And well, if they're not willing to pay for it, build something else. Well, that's the thing. Right? And I think that
Joshua Drake
how many web browsers have we had?
Matt Yonkovit
Oh, yeah, a bazillion right.
Joshua Drake
For the people who are still trying to invent the web browser? Yeah. Right. Yeah.
Matt Yonkovit
No, yeah, you're right. You're right. In that regard. I mean, there's a lot out there and people are trying different ways. but I still think that people mistake usage for value. So agree and I think that that is a fundamental mistake, because I can have 30 million downloads a month or whatever. And that doesn't mean anyone is willing to pay me for it
Joshua Drake
it. Well, here's something you and I have probably relied on more times than we can count arcing. Yeah, oh, yeah. RCT Frank. One of the best pieces of software out there, I use it for backups all the time. What do I pay for No, I'd switch to robocopy or SFTP or whatever. That doesn't mean it's not a valuable piece of software. But how do you monetize something like arcing? Well, you don't. You have to have a community that is getting something from something else.
Matt Yonkovit
Yep. No. And I think that's, it's a difficult conversation because you see the passion by people, you see that certain people have created things that are so outstanding and awesome. It's just that like, get I'm not gonna pay for it, because I'm gonna go get an alternative, yours might be 20% easier to use than this other one. But at $5 It's not worth it or whatever. Well, here's,
Joshua Drake
like, well, actually, he's embarrassed Libre Office. Right? Hands down. Microsoft Office is a better product. But Libre Office is good enough. I don't pay for it. But I think there's also you alluded to something how much value is there? I think there's something there. And I think if you take software out of it and produce a product, see software is its code, it's a theory, it's a femoral, right. It's something we can actually touch. It's why they used to ship floppies or CDs, you'd have somebody to touch, go and build a couch. Go and build a craftsman table, go Convert a bus into a motorhome, the amount of time that you will put into building something that is good, hopefully exceptional, you will never get back on the sale. It takes an enormous amount of that the kitchen has the last post I built. We were just trying to build a box. But because of the weird constraints and dimensions, it took us two hours to build a box for sizes for sites two hours, do you think someone's going to come along at our Percona or Command Prompt hourly rates and pay us for two hours for that box? Even though it's an amazing box? It's still four pieces of wood nailed together. A lot of that applies to software, no software is not special. Show me a single unique in-demand piece of software that I cannot replace with something that is good enough.
Matt Yonkovit
I think I think that that's a good point. There are always alternatives, especially in the open-source space. And you have to see the value in what you're getting. And it has to be worth more than what you could get with the alternative. Right. So there's some delta, right, right so Well, JD, we are approaching our time actually and I wanted to thank you for coming on out and chatting with me today. It's been great. Catching up. so we do these often. So you're always welcome to come back on and chat if you're interested. I and love to see you at Percona live or maybe we'll come across each other conferences, and we can sit down and chat.
Joshua Drake
I'm sure we will. And it's been great. Appreciate the time.
Matt Yonkovit
All righty. And everyone who's watching, we would appreciate you to like, subscribe, and do all those fun things that we asked you to do on social media? And let us know in the comments if there are other guests we should be talking to or other topics that we want to cover. We need your feedback. And until next time, this is the Hoss and we will catch you later. ∎