Link to listen and subscribe: PodBean
Join the HOSS (Percona's Head of Open Source Strategy) as he talks all things open-source with long time open source engineer Lenz Grimmer. Lenz has a long history of working on open source projects including Suse, MySQL, Ceph, and others. We talk about how we both got started in the open-source business, how people can contribute, and some of the cool things he has been up to.
YouTube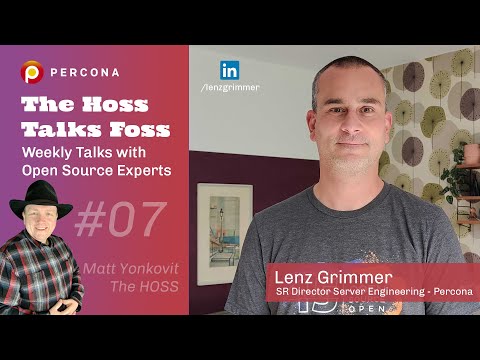 Link: https://youtu.be/5N_xWYczFGA
Lenz Grimmer
Sr. Director, Server Engineering, Percona
Lenz Grimmer supports and leads the engineering teams at Percona that work on server products like Percona Server for MongoDB, MySQL, PostgreSQL and related components. He's been involved in Linux and Open Source technologies in various roles and capacities since the mid-90s and has worked at companies like SUSE, MySQL, Sun Microsystems and Oracle.