Link to listen and subscribe: PodBean
When a bug affects 1 out of 1000 systems, but you are running 10K systems… odds are you are going to have to fix it. Long time MySQL contributor and community member Oleksandr Kuzminskyi, Staff Database Engineer at Pinterest, stops by the HOSS talks FOSS to share his insights into managing MySQL at massive scales at companies like Pinterest, Box, Drop Box, and others! He shares his insights and advice on managing those systems where you know weird problems are going to happen just because of the scale at which you are running. Devops and automation are key, but are they the only things you should consider?
YouTube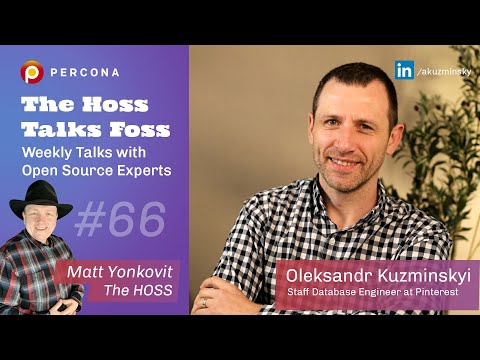 Link: https://youtu.be/0XsMIvXgF68
Oleksandr Kuzminskyi
Staff Database Engineer at Pinterest
Aleks works at Pinterest on automating its MySQL fleet operation. Before, he worked for Box, Dropbox, and Percona. He believes in Infrastructure as a Code principle and CI/CD with a goal to exterminate toil.
Matt Yonkovit
The HOSS, Percona
Matt is currently working as the Head of Open Source Strategy (HOSS) for Percona, a leader in open source database software and services. He has over 15 years of experience in the open source industry including over 10 years of executive-level experience leading open source teams. Matt's experience merges the technical and business aspects of the open source database experience with both a passion for hands on development and management and the leadership of building strong teams. During his time he has created or managed business units responsible for service delivery ( consulting, support, and managed services ), customer success, product management, marketing, and operations. He currently leads efforts around Percona's OSPO, community, and developer relations efforts. He hosts the HOSS talks FOSS podcast, writes regularly, and shares his MySQL and PostgreSQL knowledge as often as possible.
Transcript