Link to listen and subscribe: PodBean
Vaidyanathan runs the team at Flipkart that helps build and maintain their MySQL fleet. Join the HOSS as he talks to Vaidy his journey to his current role, and the systems and technology behind running such a large scale deployment of MySQL.
YouTube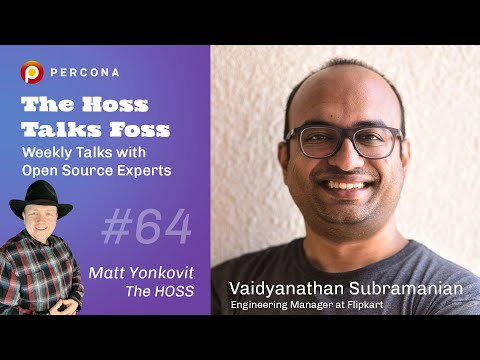 Link: https://youtu.be/EHhRtuAa-QU
Vaidyanathan Subramanian
Engineering Manager at Flipkart
Vaidyanathan is an Engineering Manager at India's largest e-commerce company, Flipkart. He has close to 13 years of experience working across multiple startups and larger companies like Yahoo. He has built and architected the central managed platform for MySQL in Flipkart and is currently managing three critical PaaS services - Managed Distributed SQL, Managed SQL and Managed Backup & Restore products in Flipkart. In his career of 7.5 years in Flipkart, he was instrumental in recognising the various problems of independently managed MySQL clusters and solving it for Flipkart at scale.
Matt Yonkovit
The HOSS, Percona
Matt is currently working as the Head of Open Source Strategy (HOSS) for Percona, a leader in open source database software and services. He has over 15 years of experience in the open source industry including over 10 years of executive-level experience leading open source teams. Matt's experience merges the technical and business aspects of the open source database experience with both a passion for hands on development and management and the leadership of building strong teams. During his time he has created or managed business units responsible for service delivery ( consulting, support, and managed services ), customer success, product management, marketing, and operations. He currently leads efforts around Percona's OSPO, community, and developer relations efforts. He hosts the HOSS talks FOSS podcast, writes regularly, and shares his MySQL and PostgreSQL knowledge as often as possible.
Transcript