Link to listen and subscribe: PodBean
Pandit Prasad, Principal Product Manager at Amazon, and Vijay Karumajji, Sr. Solutions Architect at Amazon Web Services inc join the HOSS in this episode to talk about the cloud, AWS services, Aurora & RDS. Both Prasad and Vijay are presenting at Percona Live on Multi-Zone failover in Aurora & RDS. Get not only a preview of the feature and a bit more background into these Experts.
YouTube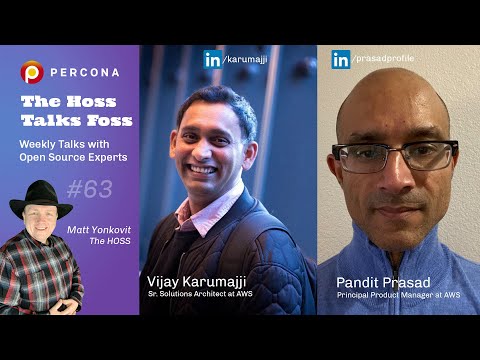 Link: https://youtu.be/g9h87DQqLZc
Pandit Prasad
Principal Product Manager at Amazon
Pandit Prasad is a Principal Product Manager at Amazon RDS. He brings with him 28 years of Hi-Tech industry experience.
Prior to this role, he led the product management for IBM's Db2, Big Data and Cloud portfolio of products (Monitoring, Automation and IT Analytics). Prior to that he led the global product marketing team at IBM. Earlier, as an IT Architect working for PwC and other consulting companies, he implemented ERP, CRM and Data warehouse applications for Large Enterprise including several Fortune100 companies.
Matt Yonkovit
The HOSS, Percona
Matt is currently working as the Head of Open Source Strategy (HOSS) for Percona, a leader in open source database software and services. He has over 15 years of experience in the open source industry including over 10 years of executive-level experience leading open source teams. Matt's experience merges the technical and business aspects of the open source database experience with both a passion for hands on development and management and the leadership of building strong teams. During his time he has created or managed business units responsible for service delivery ( consulting, support, and managed services ), customer success, product management, marketing, and operations. He currently leads efforts around Percona's OSPO, community, and developer relations efforts. He hosts the HOSS talks FOSS podcast, writes regularly, and shares his MySQL and PostgreSQL knowledge as often as possible.
Transcript