Link to listen and subscribe: PodBean
Yahav Biran, Principal Solutions Architect at AWS, joins Matt Yonkovit, the Head of Open Source Strategy (HOSS) at Percona, to talk about some of the challenges and nuances of running large-scale applications in the gaming industry. Yahav has a deep background not only in gaming but in technology. Join the HOSS and Yahav as they discuss technology, open-source, and more.
YouTube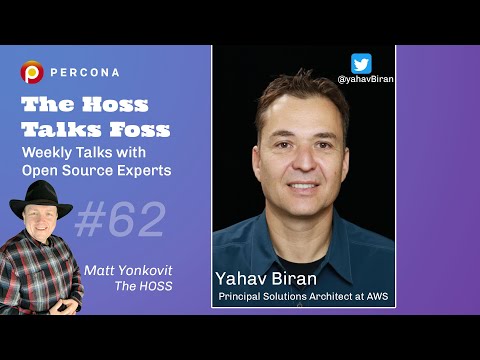 Link: https://youtu.be/F8txf0Z6e0A
Yahav Biran
Principal Solutions Architect at AWS
Yahav Biran is a Principal Solutions Architect at AWS, focused on game tech at scale. Yahav enjoys contributing to open-source projects and publishes in the AWS blog and academic journals. He currently contributes to the K8s Helm community, Percona Live, AWS databases and compute blogs, and Journal of Systems Engineering. He delivers technical presentations at technology events and works with customers to design their applications in the cloud. He received his PhD (Systems Engineering) from Colorado State University.
Matt Yonkovit
The HOSS, Percona
Matt is currently working as the Head of Open Source Strategy (HOSS) for Percona, a leader in open source database software and services. He has over 15 years of experience in the open source industry including over 10 years of executive-level experience leading open source teams. Matt's experience merges the technical and business aspects of the open source database experience with both a passion for hands on development and management and the leadership of building strong teams. During his time he has created or managed business units responsible for service delivery ( consulting, support, and managed services ), customer success, product management, marketing, and operations. He currently leads efforts around Percona's OSPO, community, and developer relations efforts. He hosts the HOSS talks FOSS podcast, writes regularly, and shares his MySQL and PostgreSQL knowledge as often as possible.
Transcript