Link to listen and subscribe: PodBean
Join Percona's HOSS (Head of Open Source Strategy) Matt Yonkovit as he sits down with David Murphy to talk about his journey and how he is seeing the DBA position evolve into DBRE's and SRE's. David has recently been working on helping a major airline modernize its internal database management systems and infrastructure, bringing more of a DevOps and SRE mentality to the company. He will discuss some of the issues and trends he has seen in his role. Covering multiple databases (Oracle, MySQL, PostgreSQL, and MongoDB) and multiple clouds is never easy, we talk about why keeping control of your data is so important, and how companies can enable developers to move faster by removing the database basics as a bottleneck.
YouTube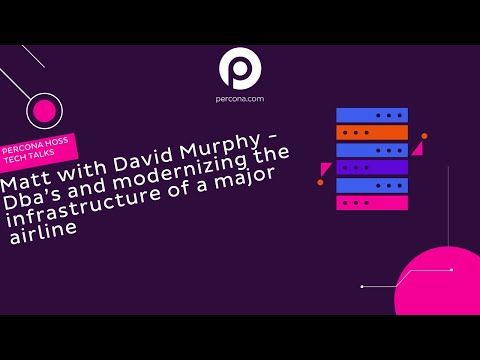 Link: https://youtu.be/do3LX8xMOIs
David Murphy
SRE & Cloud Architect
David is a Principal Architect in SRE, Database and Cloud. Previously he was the Practice Manager for MongoDB at Percona, and before that, he was one of the early members for ObjectRocket the leader in DBaaS for MongoDB specializing in performance. Other previous roles include Database System and Technology Architect as Electronic Arts. As a speaker, he prefers to focus on solutions in the real world to issues, to this point he tries to regularly publish code to help everyone use his solutions or have ideas to inspire their own. Additionally, he is a Mongo Master Alumni and core code contributor to MongoDB, MySQL, and other open source technologies.