Link to listen and subscribe: PodBean
This year marks Percona's 15th anniversary! Over the last 15 years Percona has been helping, enhancing, and helping millions in the Open Source ecosystem! Matt Yonkovit, the Percona Head of Open Source Strategy (HOSS), invited the two founders of Percona, CEO Peter Zaitsev and CTO Vadim Tkachenko, to talk about the beginning and the evolution of Percona all along those 15 years. We cover the early days of MySQL, moving into MongoDB, jumping into the PostgreSQL community, and handling the modern landscape. Listen to the technical and business challenges as Percona evolved from an idea to 2 geeks starting something new to a successful bootstrapped company with over 300 employees and thousands of customers. It has been an interesting ride! Hear all about it and what the next 15 years of Percona will look like?
YouTube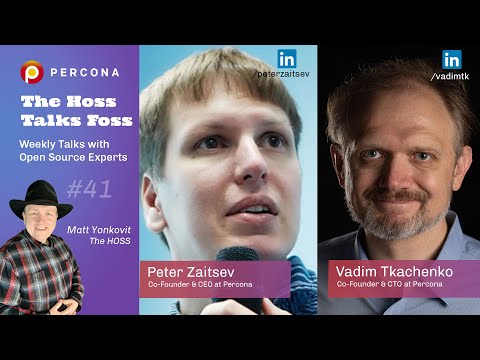 Link: https://youtu.be/xV8oZaThYyI
Peter Zaitsev
CEO, Percona
Peter Zaitsev is CEO and co-founder of Percona. As one of the foremost experts on MySQL strategy and optimization, Peter leveraged both his technical vision and entrepreneurial skills to grow Percona from a two-person shop to one of the most respected open source companies in the business. A serial entrepreneur, Peter co-founded his rst startup while attending Moscow State University where he majored in Computer Science. Peter is a co-author of High Performance MySQL: Optimization, Backups, and Replication, one of the most popular books on MySQL performance. Peter frequently speaks as an expert lecturer at Open Source Databases and related conferences. He has also been tapped as a contributor to Fortune and DZone.
Vadim Tkachenko
CTO, Co-founder at Percona
Vadim Tkachenko is Co-founder of Percona Company Experienced Chief Technology Officer with a demonstrated history of working in the information technology and services industry. Strong entrepreneurship professional skilled in Scalability, Performance Tuning, Software Engineering.
Transcript