Link to listen and subscribe: PodBean
Percona's Hoss (Head of Open Source Strategy) Matt Yonkovit talks to Percona's SR Director of Solution Engineering on his journey from Teradata and Oracle to Open Source at Percona. Brian explores what he sees as the drivers and obstacles for enterprises moving and adopting more open source.
YouTube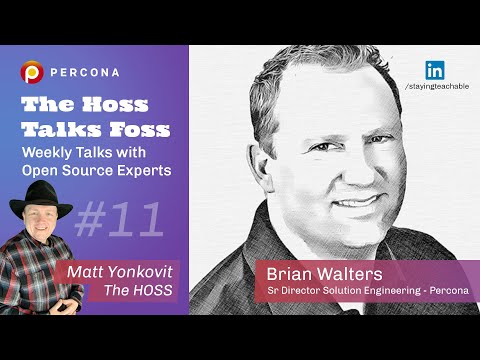 Link: https://youtu.be/HTrGSfs8g1I
Brain Walters
Director of Solution Engineering, Percona
Brian has over 20 years of experience in the database and technology space. He holds a Bachelor's degree in Organizational Leadership. Brian's career has included roles as Database Architect, Solutions Architect, Product Manager, and Pre-Sales Engineer. Brian spent 7 years at Teradata on their product engineering and product management teams followed by 7 years with Oracle as a Principal Sales Consultant. Brian is currently working at Percona as the Director of Solution Engineering.