Link to listen and subscribe: PodBean
On this episode of the HOSS (Head of open Source Strategy) talks FOSS (Free and Open Source Software), we talk with Peter Zaitsev CEO of Percona. We explore the changing landscape of the open source space including recent increases in the use of SSPL licenses by database providers like Elastic. We explore the trends driving the open source business in 2021.
Last week Elastic announced that they were "Doubling Down" on open source by changing their licensing to a non-open license - MongoDB's Server Side Public License or SSPL. Let me clarify in my opinion this is not doubling down - unless, as our good friend @gabidavila highlighted, that maybe the thinking was a double negative makes a positive? VM Brasseur posted on her blog that he feels Elastic and Kibana are now a business risk for enterprises. Peter Zaitsev has penned why he felt SSPL was bad for you before this announcement, and then sat down with me to discuss his thoughts last week as well.
Elastic was the most recent company to change licenses away from a more permissive and open license following in the footsteps of other vendors like MongoDB. Is SSPL (Server Side Public) License good or bad? What is the impact on open source? Why the change?
YouTube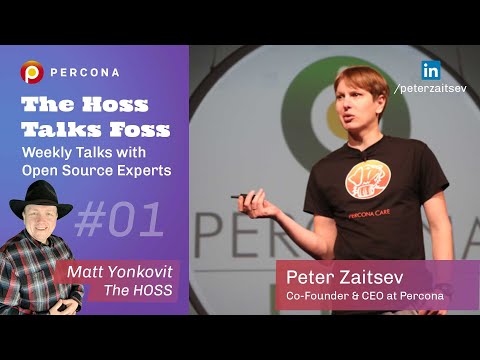 Link: https://youtu.be/KkFajzrF61s
Peter Zaitsev
CEO, Percona
Peter Zaitsev is CEO and co-founder of Percona. As one of the foremost experts on MySQL strategy and optimization, Peter leveraged both his technical vision and entrepreneurial skills to grow Percona from a two-person shop to one of the most respected open source companies in the business. A serial entrepreneur, Peter co-founded his rst startup while attending Moscow State University where he majored in Computer Science. Peter is a co-author of High Performance MySQL: Optimization, Backups, and Replication, one of the most popular books on MySQL performance. Peter frequently speaks as an expert lecturer at Open Source Databases and related conferences. He has also been tapped as a contributor to Fortune and DZone.