Setting Up and Installing Backups With pgBackRest - Percona Community PostgreSQL Live Stream & Chat - May, 6th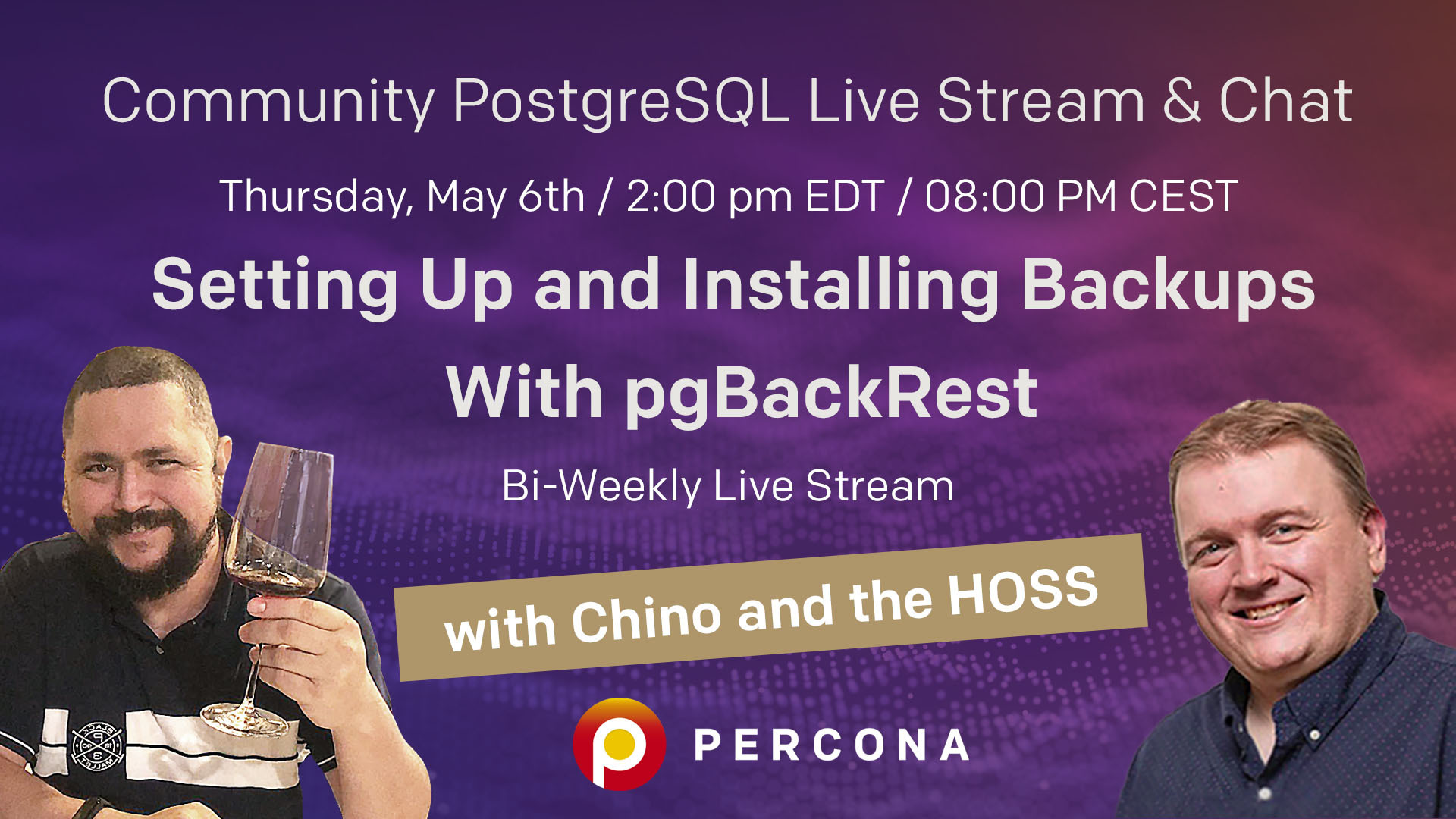 Listen out to this full recording of the live stream dedicated to PostgreSQL hosted by the Head Of Open Source Strategy at Percona, Matt Yonkovit, with Charly Batista, PostgreSQL Tech Lead at Percona. They took us through the setting up and installing backups with pgBackRest This is a part of the bi-weekly Live Streaming series to discuss Postgres-related topics and go deep into technology secrets and tricks.
Video
Topic
Thursday, May 6th at 2:00 pm EDT / 08:00 PM CEST
Setting Up Failover via a Replica for PostgreSQL
Watch the recording on LinkedIn.
Follow us on Twitter and get informed of all upcoming meetups.
Tell Us About This Meeting
Any comments, feedback, and suggestions are welcome to help us improve upcoming events: What DID you like? What DIDN'T you like? (Be honest!) What do you want to see next time?
Charly Batista
Percona, PostgreSQL Tech Lead
Charly Batista is currently PostgreSQL Tech Lead at Percona. Possesses over twelve (12) years of experience in various areas of IT including Database Administration, Data Analysis, Systems Analysis and Software Development. Strong analytical skills combined with experience in object oriented programming techniques. Technical Leader for more than four (4) years for the Developer Team. Born in Brazil and now living in Shanghai-China.
Matt Yonkovit
The HOSS, Percona
Matt is currently working as the Head of Open Source Strategy (HOSS) for Percona, a leader in open source database software and services. He has over 15 years of experience in the open source industry including over 10 years of executive-level experience leading open source teams. Matt's experience merges the technical and business aspects of the open source database experience with both a passion for hands on development and management and the leadership of building strong teams. During his time he has created or managed business units responsible for service delivery ( consulting, support, and managed services ), customer success, product management, marketing, and operations. He currently leads efforts around Percona's OSPO, community, and developer relations efforts. He hosts the HOSS talks FOSS podcast, writes regularly, and shares his MySQL and PostgreSQL knowledge as often as possible.