Setting Up Alerts and Basic Automation for MySQL - Percona Community MySQL Live Stream & Chat - May, 27th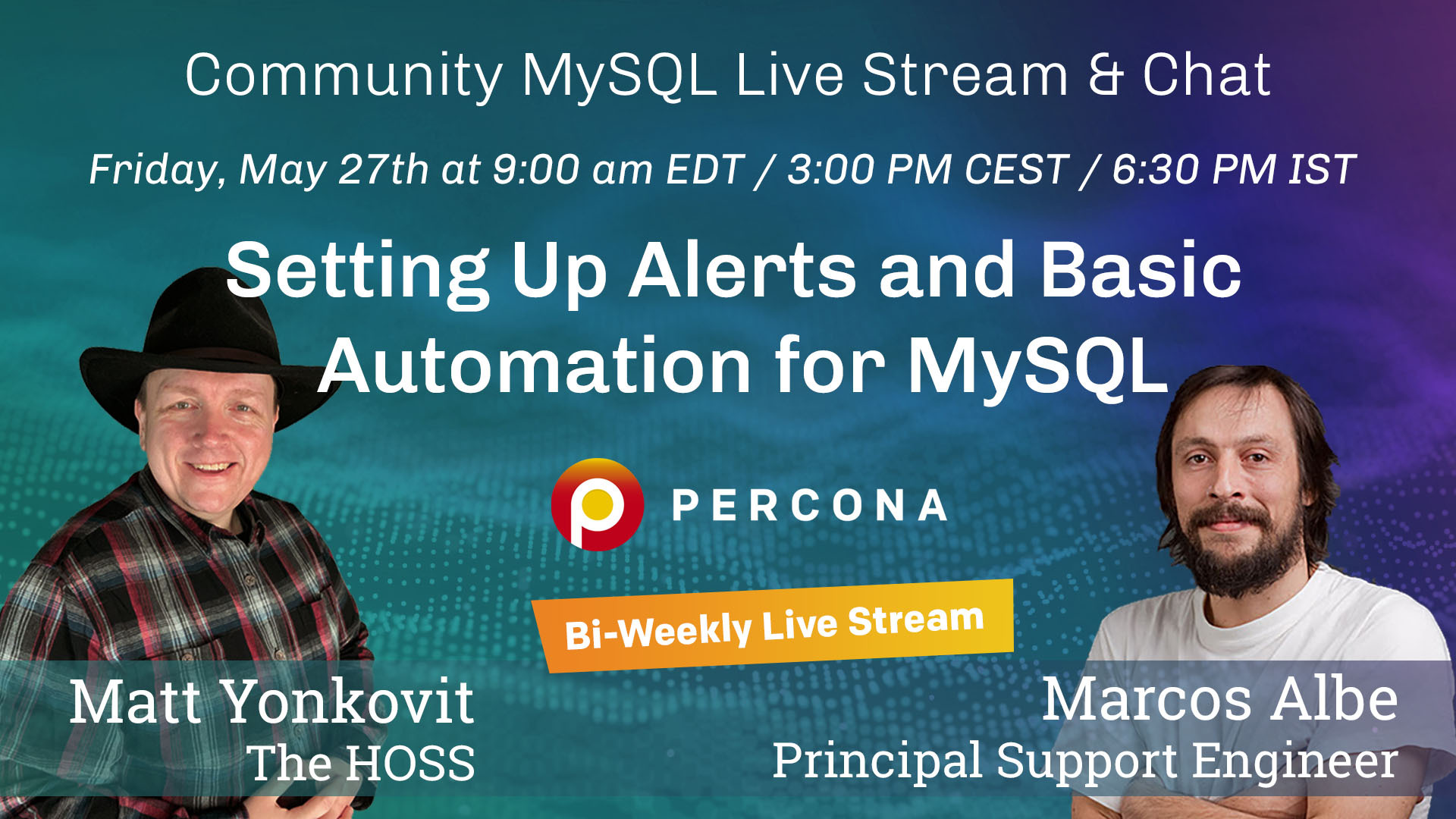 Join the next Community Live Stream for MySQL and learn how to increase the performance of your database with our experts. Matt and Marcos will show how to set up alerts and basic automation for MySQL. Hang out and ask questions to get answers straightforward!
Join us Live & Ask Questions
Friday, May 27th at 9:00 AM EDT / 03:00 PM CEST/ 06:30 PM IST Matt and Marcos will get across Setting Up Alerts and Basic Automation for MySQL
Subscribe
Watch it live on YouTube, Linkedin, and Twitch. Live chat on Discord. Add this event to your Google Calendar Follow us on Twitter and stay tuned to all upcoming meetups.
Any comments, feedback, and suggestions are welcome to help Percona Community improve upcoming events!
Marcos Albe
Principal Support Engineer, Percona
After 12 years working as a developer for local and remote firms, Marcos decided to pursuit true love and become full time DBA, so he has been doing MySQL Support at Percona for the past 8+ years, providing lead web properties with advise on anything-MySQL and in-depth system performance analysis.
Matt Yonkovit
The HOSS, Percona
Matt is currently working as the Head of Open Source Strategy (HOSS) for Percona, a leader in open source database software and services. He has over 15 years of experience in the open source industry including over 10 years of executive-level experience leading open source teams. Matt's experience merges the technical and business aspects of the open source database experience with both a passion for hands on development and management and the leadership of building strong teams. During his time he has created or managed business units responsible for service delivery ( consulting, support, and managed services ), customer success, product management, marketing, and operations. He currently leads efforts around Percona's OSPO, community, and developer relations efforts. He hosts the HOSS talks FOSS podcast, writes regularly, and shares his MySQL and PostgreSQL knowledge as often as possible.