On December 2th-3th, Percona Team was in New York on an important event in the PostgreSQL world - PGConf NYC. It is a non–profit, community-run conference, focused on business users, database professionals, and developers of PostgreSQL. Percona was thrilled to participate in it as a Platinum sponsor this year.
Speakers from Percona gave several amazing talks at the conference:
Postgres and Json - How to get the best of them? by Charly Batista (PostgreSQL Tech Lead).
How to improve PostgreSQL Monitoring and Observability with PMM by Agustín Gallego (Senior Support Engineer) and Charly Batista (PostgreSQL Tech Lead).
PostgreSQL Query Performance Insights by Hamid Akhtar (Technical Product Manager for PostgreSQL).
A Deep Dive into PostgreSQL Indexing by Ibrar Ahmed (Senior Software Architect).
Driving the Future of PostgreSQL Adoption by Peter Zaitsev (CEO) and Umair Shahid (Head of PostgreSQL, Product Management).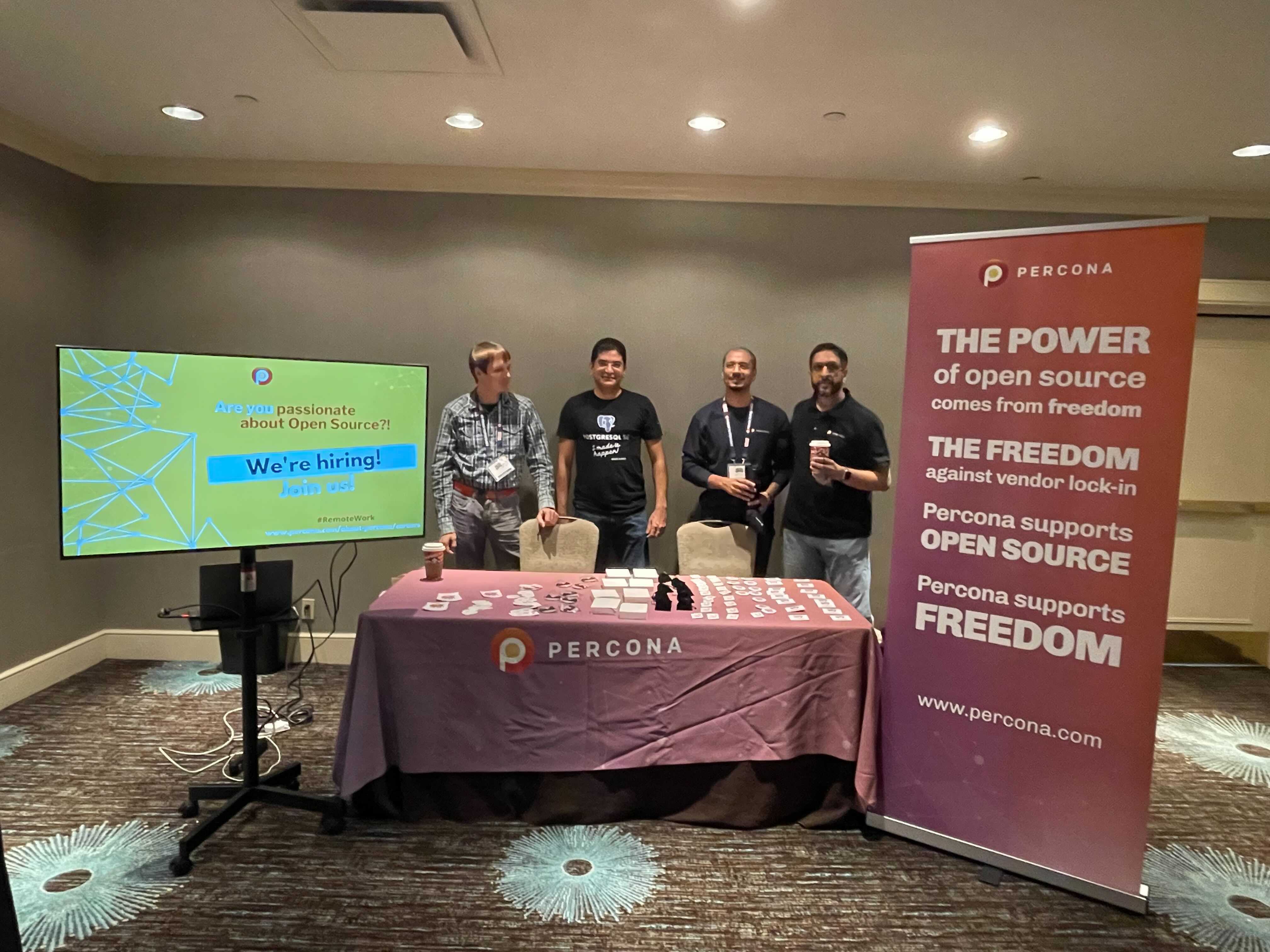 All the sessions were well-attended and attendees asked questions and actively participated in conversations with speakers. Also, a lot of people came to our booth to have a chat with Percona experts afterward. This is a key thing for Percona's presence at events. We bring highly qualified engineers to have deep tech conversations with attendees and advise on database technologies.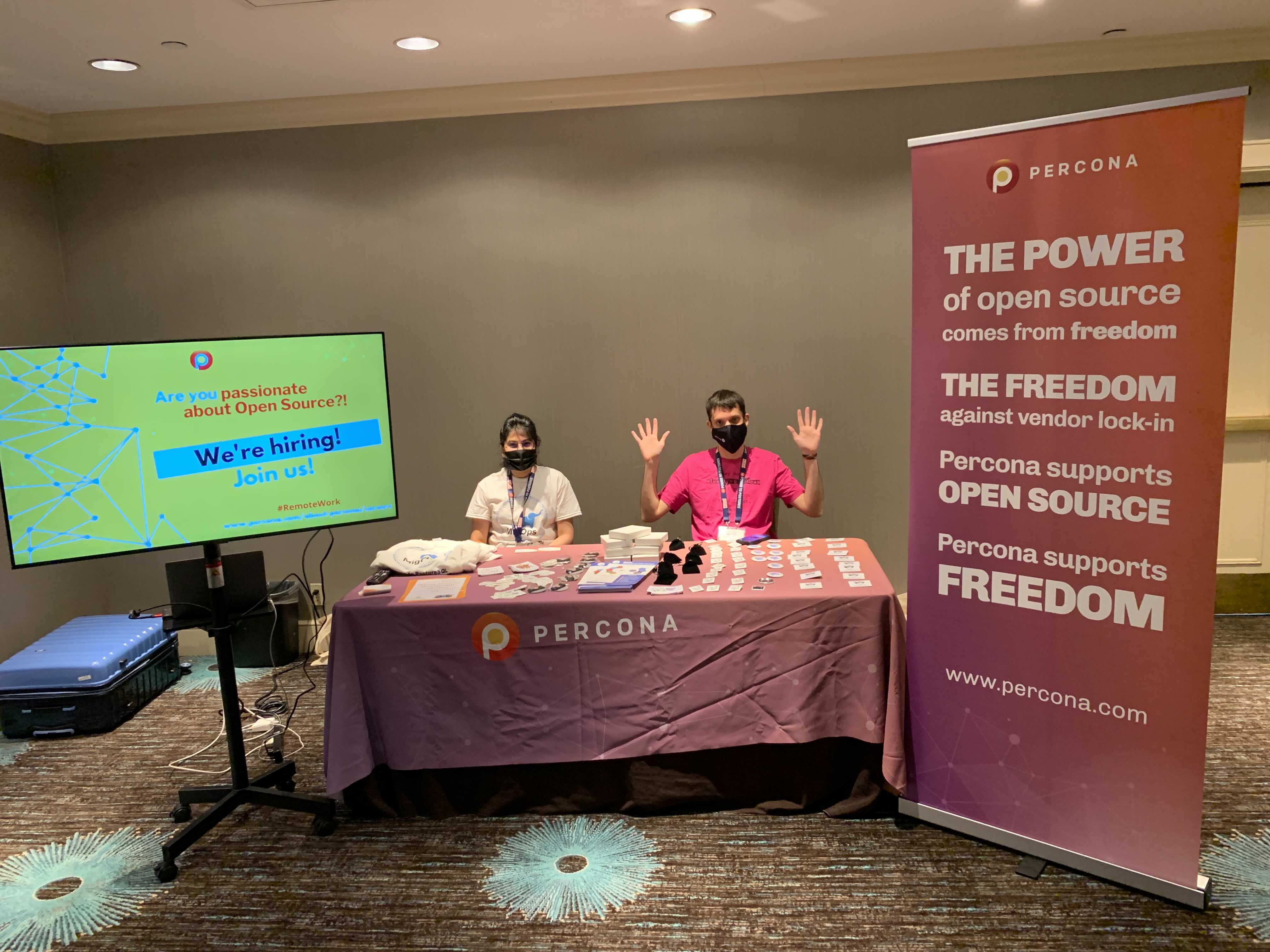 While people came to the booth to chat, no one walked away without the gift! We gave out a lot of swag: flasks, bottle openers, cord organizers, and, of course, stickers!
On the evening of the 1st day, Percona Team went to a team dinner at the Italian restaurant and had a walk around New York exploring the city at Holiday Season!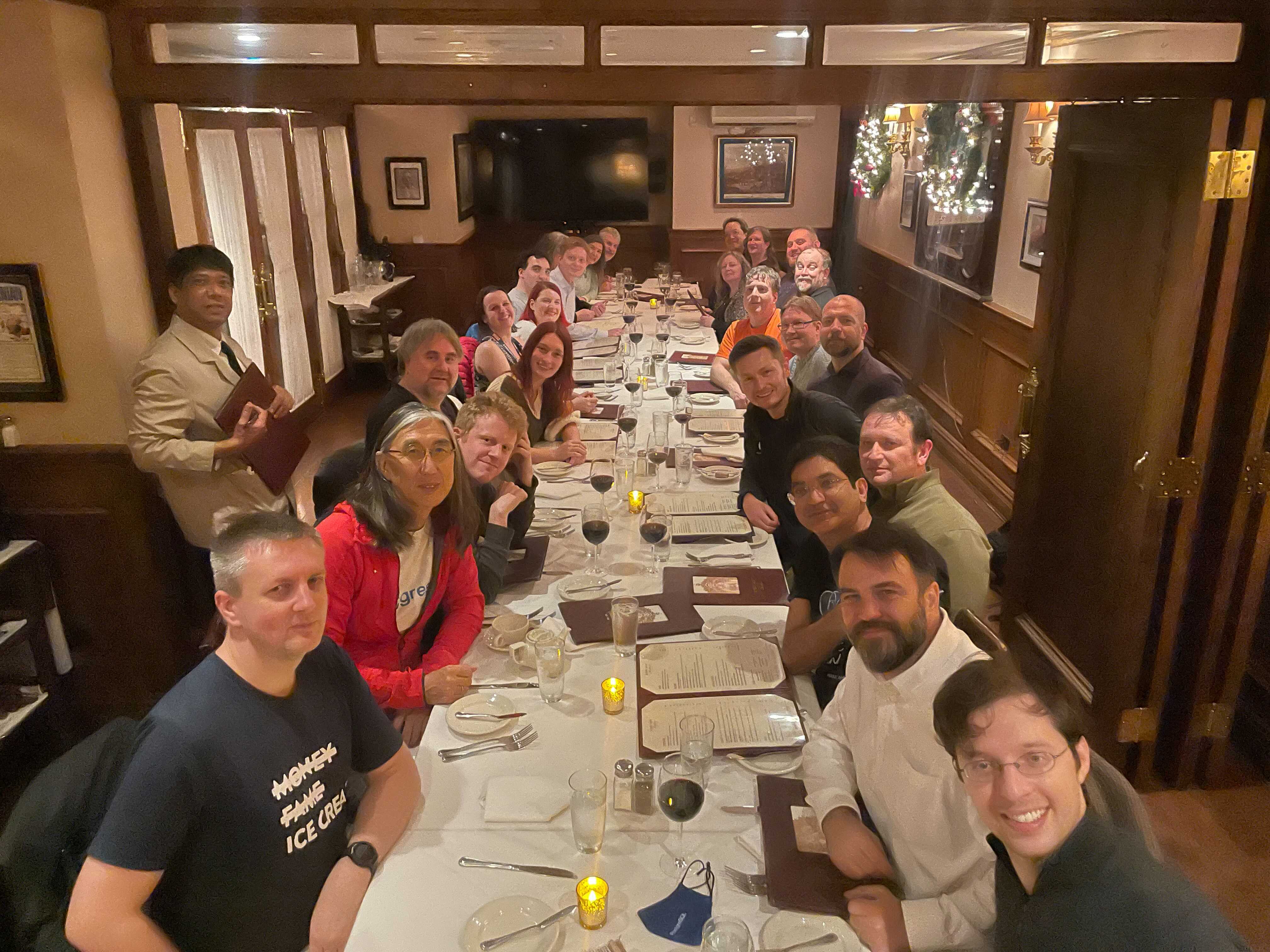 Video
If you missed the event, watch the recordings of Percona speakers' talks:
Driving the Future of PostgreSQL Adoption by Peter Zaitsev and Umair Shahid
How to improve PostgreSQL Monitoring and Observability with PMM by Agustin Gallego and Charly Batista
A Deep Dive Into PostgreSQL Indexing by Ibrar Ahmed
PostgreSQL Query Performance Insights by Hamid Quddus Akhtar
Postgres and Json - How to get the best of them? by Charly Batista
The next event Percona will sponsor and have a booth is also a Postgres one - Postgres Silicon Valley. Let's meet in San Jose in 2022! ∎