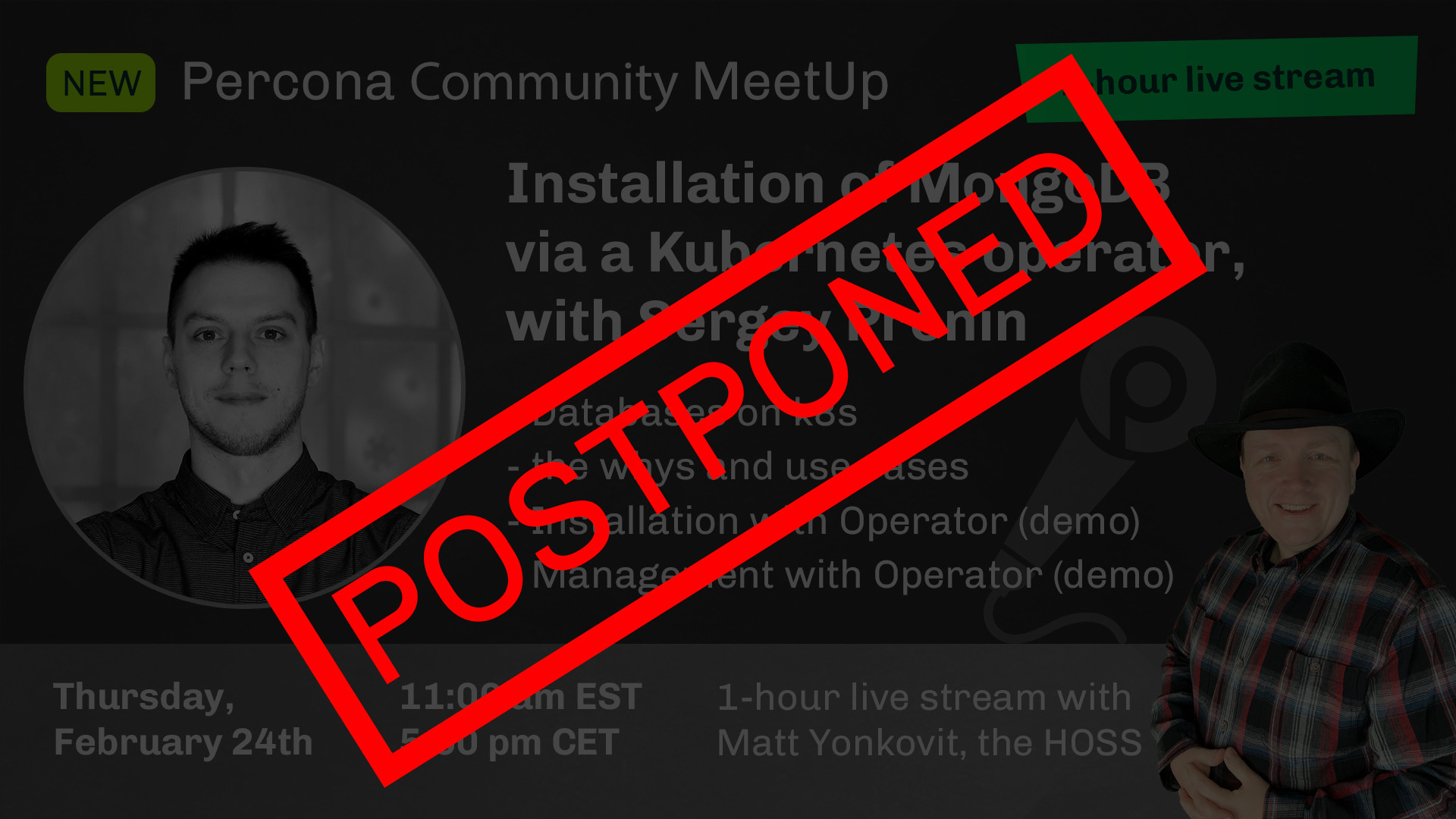 ---
Hello,
We are sorry to inform you that we have to POSTPONE our Community MeetUp of Today Thursday, Feb 24th, 11 am EST (5:00 pm CEST / 9:30 pm IST). A new schedule of the meeting will be announced soon.
Thank you for your understanding.
Percona Community Team
---
Join us in The Percona Community MeetUp and walk with us through the installation of MongoDB via a Kubernetes operator. Sergey Pronin will take us through all steps of the setup to get us started with a new MongoDB Cluster. Stop by and ask your questions and receive an answer right away.
Join us in Community MeetUp for MongoDB
Day: Thursday, Feb 24th, 11 am EST (5:00 pm CEST / 9:30 pm IST)
Add this event to your Google Calendar
We Will Talk About:
Installation of MongoDB via a Kubernetes operator, with Sergey Pronin and Matt Yonkovit
Databases on k8s - the whys and use cases
Installation with Operator (demo)
Management with Operator (demo)
Q&A
Sergey Pronin has talked about Kubernetes Operators in the Percona Podcast 03 and Podcast 12. He brought a recap of talks that he shared at Percona Live, the latest entry into Percona's Operator lineup, and the Percona Postgres Operator in Podcast 32. In addition to Percona Blog, Sergey has posted in different communities and blogs like rimzy.net, sessionize.com, wiza.com, community.cncf.io, devoops.ru, and more
This Community MeetUp is recommended for:
User of MongoDB
Student or want to learn about MongoDB
Expert, Engineer, Developer of MongoDB
Thinking about working with databases and big data
Informed about Percona products and wish to know much detail
All kinds of feedback are welcome to help us improve upcoming events