PostgreSQL and Artificial intelligence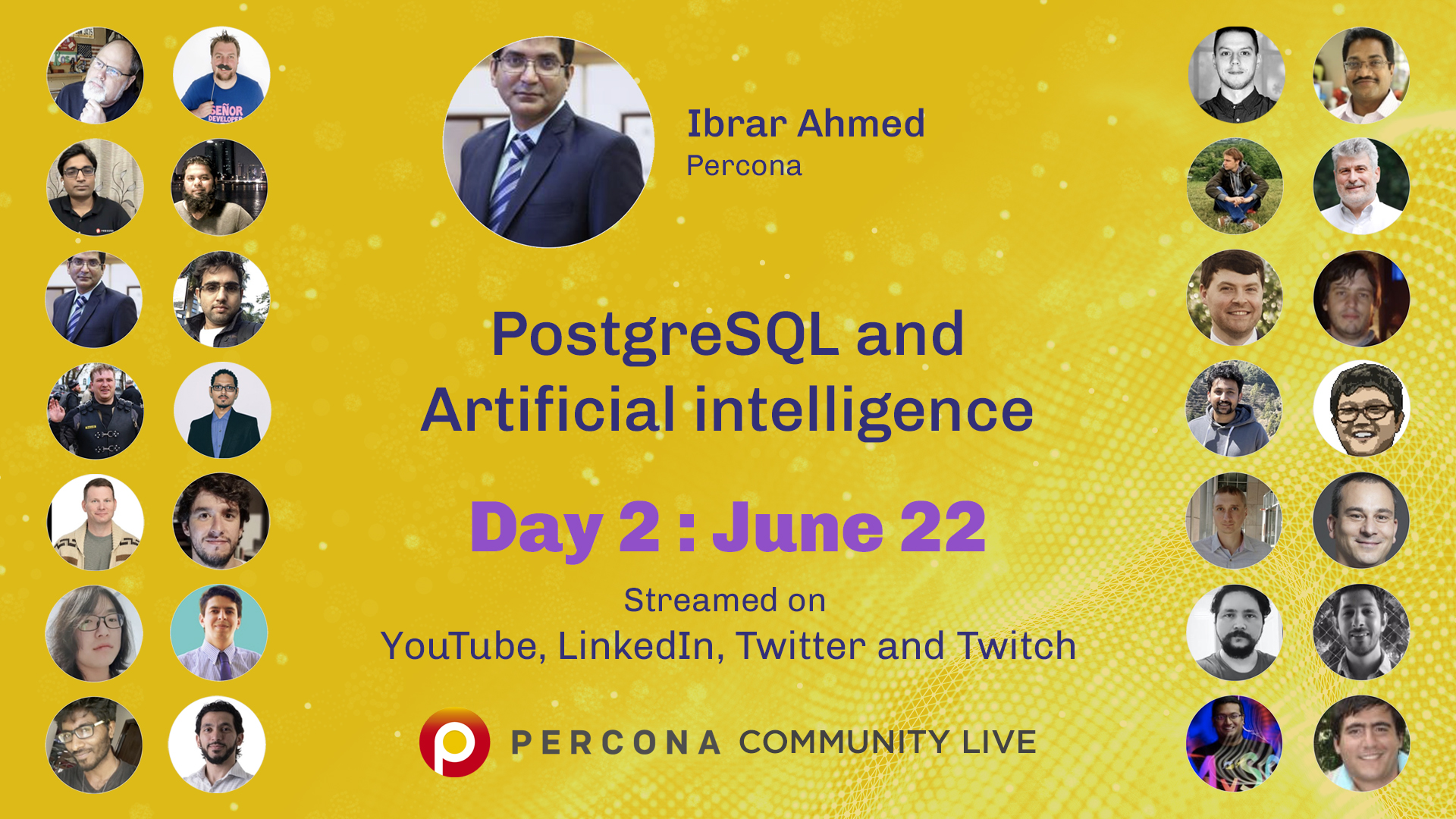 This session was presented on Percona Community Live Online June 21-23, 2022. Check out the full schedule here.
Artificial intelligence, machine learning, and deep learning are intertwined capabilities that attempt to solve problems that defy traditional computational solutions — problems including fraud detection, voice recognition, and search result recommendations. While they elude simple computation, they are computationally expensive, involving the calculation of perhaps millions of probabilities and weights. These computations can be done outside the database, but there are specific advantages of doing machine learning inside it, close to where the data is stored. This presentation explains how to do machine learning inside the Postgres database. "
Watch Video Here
Transcript
Ibrar Ahmed
Sr. Software Architect, Percona
Ibrar Ahmed is a Software Architect in Percona LLC. Prior to coming to open source development, he had vast experience in software design and development. His main focus was on system-level embedded development. After joining EnterpriseDB in 2006, an Enterprise PostgreSQL company, he started his career in open source development specifically in PostgreSQL. He has contributed to the PostgreSQL community as well as other open source communities. His contribution ranges from the main performance feature enhancements to various PostgreSQL modules. In the database field, he has experience in other well-known databases MySQL, Oracle, and NoSQL databases such as MongoDB and Hadoop. His experience is not limited to core databases, but with the tools related to databases like Hive, HBase, and Spark. He also worked on integrating these tools with PostgreSQL.
Ibrar gave more than fifteen PostgreSQL talks in the last year in various parts of the World (PostgreConf-EU, PostgreConf-ASIA, PostgreConf-NY, Percona Lives, FOSDEM, etc ). He also authored multiple books on PostgreSQL.