10 Deadly PostgreSQL Sins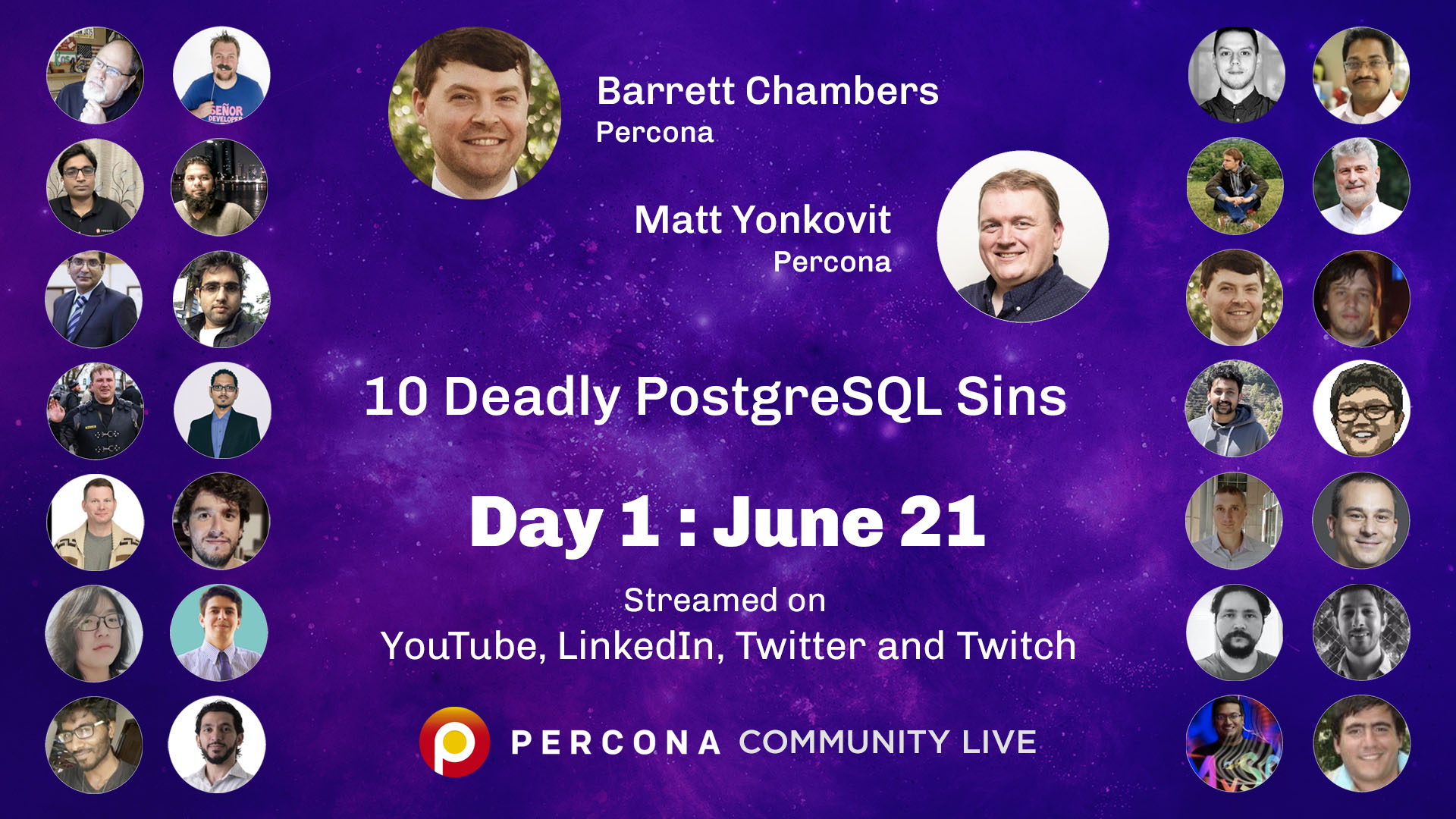 This session was presented on Percona Community Live Online June 21-23, 2022. Check out the full schedule here.
PostgreSQL is one of the most popular open source databases on the planet. According to recent research, it is the most wanted, most loved, and the fastest growing open source database on the market today. As people use PostgreSQL for more and more projects, many of them are falling into the same traps, problems, and issues that many others have. Our support organization has worked with 1000's of customers worldwide and seen every possible database problem from the easy to the complex. While every problem has the potential to be unique, there are several we see happening over and over again. Our mission is to prevent you from experiencing the pain so many others have experienced. With our tips and tricks, you will be sure to exorcise the 7 deadly PostgreSQL sins from your environment. After doing that we will look ahead to talk about some of the most exciting and interesting new features in PostgreSQL!
Watch Video Here
Transcript
Barrett Chambers
Director of Solutions Engineering, Percona.
Barrett Chambers is the Director of Solutions Engineering at Percona. Prior to joining Percona, he acquired a range of full-stack perspectives as an Application Support Specialist, Operational DBA, SaaS engineer, and Solutions Engineer. Barrett has over 6 years of experience designing database solutions with consideration for high availability, disaster recovery, and performance for MySQL, PostgreSQL, and MongoDB environments.
Matt Yonkovit
The HOSS, Percona
Matt is currently working as the Head of Open Source Strategy (HOSS) for Percona, a leader in open source database software and services. He has over 15 years of experience in the open source industry including over 10 years of executive-level experience leading open source teams. Matt's experience merges the technical and business aspects of the open source database experience with both a passion for hands on development and management and the leadership of building strong teams. During his time he has created or managed business units responsible for service delivery ( consulting, support, and managed services ), customer success, product management, marketing, and operations. He currently leads efforts around Percona's OSPO, community, and developer relations efforts. He hosts the HOSS talks FOSS podcast, writes regularly, and shares his MySQL and PostgreSQL knowledge as often as possible.