Kubernetes' popularity as the most-preferred open-source container-orchestration system has skyrocketed in the recent past. The overall container market is expected to cross USD 2.7 billion by 2020 with a CAGR of 40 percent. Three orchestrators spearhead this upward trend, namely Kubernetes, Mesos, and Docker Swarm. However, referring to the graph below, Kubernetes clearly leads the pack.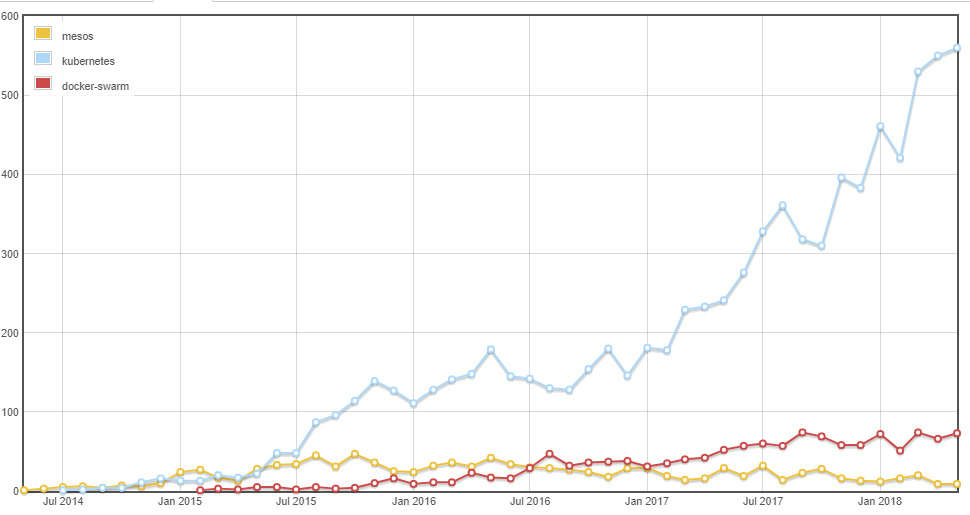 source: https://medium.com/@rdodev/saved-you-an-analyst-read-on-kubernetes-growth-2018-edition-810367876981 
The automation and infrastructural capabilities of Kubernetes are transforming the DevOps space,  thereby enhancing the value of the business through software. With Kubernetes you can deploy, scale, and manage cloud-native databases and applications from anywhere. No wonder, data scientists and machine learning engineers love Kubernetes and apply it to improve their productivity. As Kubernetes continues to evolve and grow in complexity, we need to be ready with solutions that simplify Kubernetes, thereby enhancing your development work. Here is a comprehensive list of Kubernetes tools that can help you tame this orchestrator, many of them open source. I have divided them into five functional categories.
1. Tools for Automating Cluster Deployments
Automated Kubernetes cluster services are a hot topic today because they eliminate much of the deployment and management hassles. An ideal application should consume declarative manifests, bootstrap fully-functioning clusters, and ensure that the K8 clusters are highly available.
2. Cluster Monitoring Tools
Monitoring Kubernetes clusters is critical in a microservice architecture. The following graph shows the top cluster monitoring tools available today.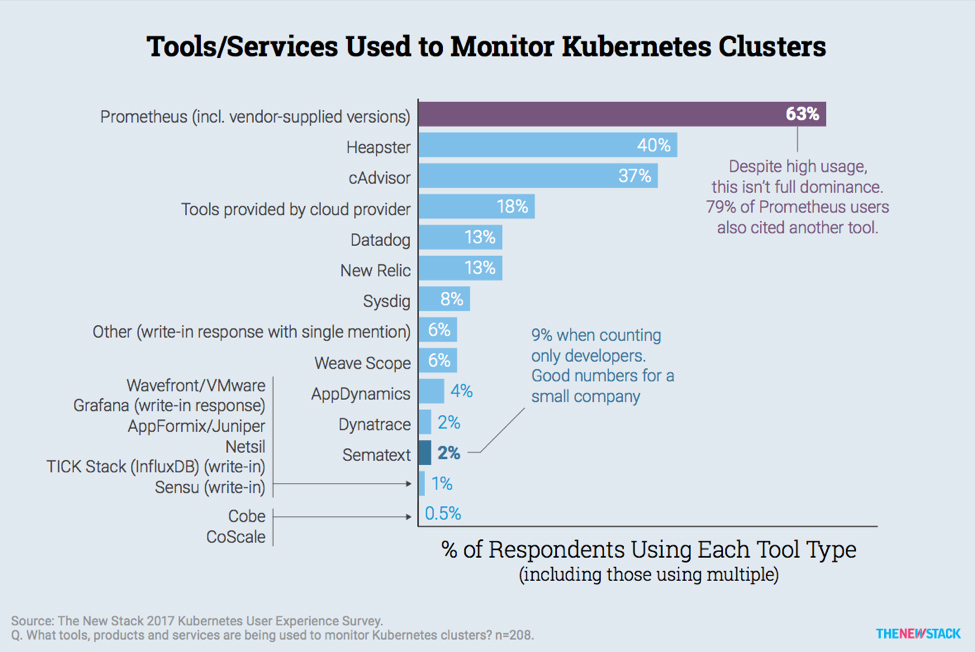 Source: https://thenewstack.io/5-tools-monitoring-kubernetes-scale-production/
Here are our recommendations.
3. Security Tools
Since Kubernetes effectively automates the provisioning and configuration of containers and provides IP-based security to each pod in the cluster, it has become the de facto container orchestrator. However, Kubernetes cannot offer advanced security monitoring and compliance enforcement, making it important for you to rely on the below-mentioned tools to secure your container stack and in turn bolster DevOps security.
4. Development Tools
Kubernetes applications consist of multiple services, each running in its own container. Developing and debugging them on a remote Kubernetes cluster can be a cumbersome undertaking. Here are a few development tools that can ease the process of developing and debugging the services locally.
5. Kubernetes-Based Serverless Frameworks
Due to Kubernetes' ability to orchestrate containers across clusters of hosts, serverless FaaS frameworks rely on Kubernetes for orchestration and management. Here are a few Kubernetes-based serverless frameworks that can help build a serverless environment.
Time for Action
Open-source container-orchestration systems like Kubernetes have helped users overcome several challenges in the DevOps space. However, as Kubernetes continues to evolve, your development, monitoring, and security strategies need to change. Use the Kubernetes tools and frameworks shared in this post to simplify cluster orchestration and deployment, making it easy to deploy this popular orchestrator.
–
The content in this blog is provided in good faith by members of the open source community. The content is not edited or tested by Percona, and views expressed are the authors' own. When using the advice from this or any other online resource, please test ideas before applying them to your production systems, and **always **secure a working back up.
Featured image photograph AnnaD on Pixabay ∎